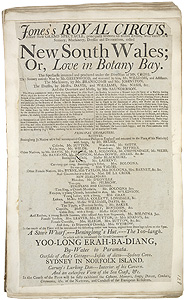 New South Wales; Or, Love in Botany Bay, 1798 Jones's Royal Circus
Playbill
Ref: MLMSS 7631, p. 128

From Theatrical Scraps consisting of Various Casts of Shakespears [sic] Plays, & other Stock Pieces.Also many other things relating to the Theatres of London, c. 1782-1799.
This rare printed playbill shows how most Londoners learnt about the original inhabitants of New South Wales. From August to October 1789 they flocked to George's Fields, drawn by the spectacle Love in Botany Bay at Jones's Royal Circus.

The director, Mr John Cross, mingled elements of ballet, pantomime, farce and melodrama with painted scenery and stage machinery. The players (including Italian rope dancers) imitated the kangaroo and dog (dingo) dances of the Erah-ba-diang, and represented Bennelong, his wives Barangaroo and Gooroobarrabooloo (Kurubarabulu), his sister Carangarang, his friends Colebee and Watewal, his rival Caruey, and Pemulwuy the Bidjigal leader.