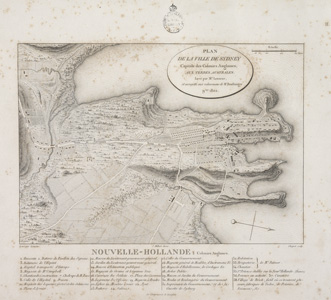 Plan de la ville de Sydney, 1802
by Jean Baptiste Antoine Cloquet (d. 1828) after Charles Alexandre Lesueur (1778-1846).
Engraving
From Voyage de découvertes aux terres Australes by François Péron, 1811.
Ref: F980/P Atlas [1811], II

Plan de la ville de Sydney
Governor Phillip (in the 'Governors' Vocabulary', 1791) included the Gomerigal.Tongara among the 'other Tribes that live near us' and listed the placename 'Long Cove - Go-mo-ra'. This suggests the clan was located at Long Cove, later Cockle Bay or Darling Harbour.

Logically, they would also have occupied Blackwattle Bay (now Glebe), seen on the French plan (38) before land reclamation, as a large body of shallow water, and Blackwattle Creek, near the village of the Brickfields (Chippendale).

According to the Sydney Gazette, 27 November 1830, King Bungaree 'died in the midst of his own tribe, as well as that of Darling Harbour, by all of whom he was beloved'.