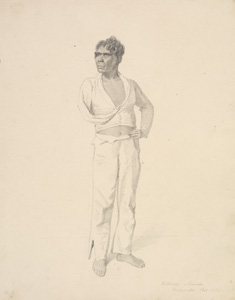 William Minam Walamata Port Aitken, c. 1843-1849. Artist unknown.
Pencil
Ref: PXA74

From Portraits of the Aborigines of New South Wales Sydney, 1843.
Taking his name from Eber Bunker's whaler William and Ann did not make Willamannan a good sailor. In October 1805 the Sydney Gazette reported that he had deserted the whaler Raven at Jervis Bay and returned to Sydney. He explained that 'the ship was very little, and the sea grew very big'.

In 1832 Willamannan joined John Batman's 'roving parties', hunting down Aboriginal people in Van Diemen's Land. By 1843 he had lost his right arm.

Port Aitken was an early name for Port Hacking, south of Botany Bay. Walamata might be Willamanann's clan, while Konemetta is Gunamatta Bay on Port Hacking.