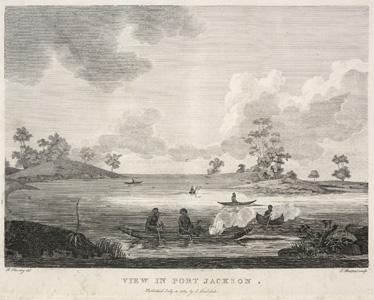 A View in Port Jackson, 1789 by T. Prattent after Richard Cleveley (1747-1809).
Engraving (reproduction)
Ref: Q78/26, plate 4

From Arthur Phillip, The Voyage of Governor Phillip to Botany Bay, London, 1789.
This saltwater scene in Port Jackson shows Aboriginal men, women and children in bark canoes. Women fished with handlines and 'crescent-shaped lures' that were ground and chipped from shells. Fires burning in the canoes were used to cook fresh fish and mussels, which they spat into the water to attract fish.

The English engraver seems to have freely adapted the subject matter from naive watercolour field sketches by the unidentified 'Port Jackson Painter'.