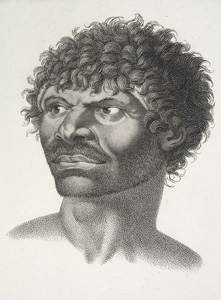 Nouvelle - Hollande. Gnoung-a- gnoung-a, mour-re-mour-ga (dit Collins.)
by Barthelemy Roger (1767-1841) after Nicolas-Martin Petit (1777-1804).
Engraving
From, Voyage de découvertes aux terres Australes by François Péron, 1811.
Ref: F980/P Atlas [1811], plate XVII

Gna.na.gna.na, Gnung-a Gnung-a Murremurgan, or Anganángan
Gna.na.gna.na, Gnung-a Gnung-a Murremurgan, or Anganángan was called 'Collins' by the English colonists, after he exchanged names with Judge Advocate David Collins. He married Bennelong's pretty sister, Warreeweer.

While Bennelong was in England during 1793-94, Gnung-a Gnung-a sailed across the Pacific on the storeship HMS Daedalus to Norfolk Island, Nootka Sound (Vancouver) and Hawaii, where King Kamehameha unsuccessfully offered to buy him.

In December 1795 Gnung-a Gnung-a was crippled by a spear in the back, thrown by Pemulwuy. He survived, but was found dead behind the Dry Store (the present Sirius Park, near Bridge Street) in January 1809.