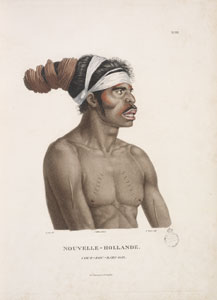 Nouvelle-Hollande. Cour-Rou-Bari-Gal
by Barthelemy Roger (1767-1841) after Nicolas-Martin Petit (1777-1804).
Hand-coloured engraving
Ref: F980/P Atlas [1811], plate XVIII

From Voyage de découvertes aux terres Australes by François Péron, 1824.
An Aboriginal man with his long hair wrapped in bark strips gave his name to the French artist as Courroubarigal. It is likely that he had replied to the question, 'What is your name?', with 'kuri' ('man') and 'Boregegal' (or 'Bradleys Head Clan').

Governor Phillip mentioned the Boregegal among the 'other Tribes which live near us'. In the 'Governors' Vocabulary' it is given as 'Boregegal.Yuruey', indicating they were Eora (pronounced 'yura').

Booragy or Búrroggy was presumably the sharp point near the present Bradleys Head lighthouse. The rounded headland further north, recorded by William Dawes as Taliangy, is clearly shaped like a tongue (talang).