World Press Photo 2006
This year 4448 professional photographers from 122 countries entered 83,044 images in this prestigious annual international competition for press photography. The jury gave prizes in 10 theme categories to 63 photographers of 25 nationalities, including five from Australia: Mark and Jenny Evans, Palani Mohan, Ryan Pierse and Adam Pretty.
The annual World Press Photo exhibition features these award-winning photographs including the winning image by Canadian photographer Finbarr O'Reilly. This picture shows the emaciated fingers of a one-year-old child pressed against the lips of his mother at an emergency feeding clinic in Niger.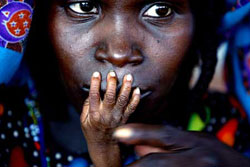 Open: 4 May 2006 – 28 May 2006
Galleries, Mitchell Wing
State Library opening hours
Admission: Free
Sponsored by Canon and TNT.




Finbarr O'Reilly, Canada, Reuters
Mother and child at emergency feeding center, Tahoua, Niger, 1 August