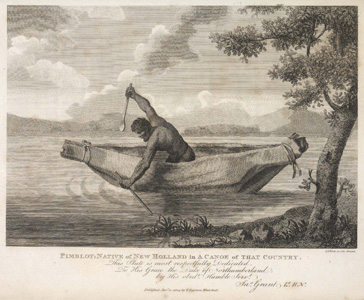 Pimbloy: Native of New Holland in a canoe of that country, 1804
by Samuel John Neele (1758-1824)
Engraving
From The Narrative of a Voyage of Discovery Performed in H. M. Vessel Lady Nelson, 1803-1804 by James Grant.
Ref: Q80/18

Pimbloy
The Bidjigal (River Flat Clan) is inseparable from its leader Pemulwuy (from bimul, meaning 'earth'). In December 1790, Pemulwuy fatally speared Governor Phillip's convict game hunter, John McEntire. Watkin Tench described Pemulwuy as a 'young man, with a speck, or blemish, on his left eye'.

This engraving of 'Pimbloy' in his canoe is the only known image of Pemulwuy. 'The resemblance is thought to be striking by those who have seen him,' wrote James Grant, captain of the Lady Nelson, in his The Narrative of a Voyage of Discovery Performed in H.M. Vessel Lady Nelson ... 1803-04.

Evidence suggests that Bidjigal country spread west from Botany Bay to Salt Pan Creek, a Georges River tributary stretching north to Bankstown.