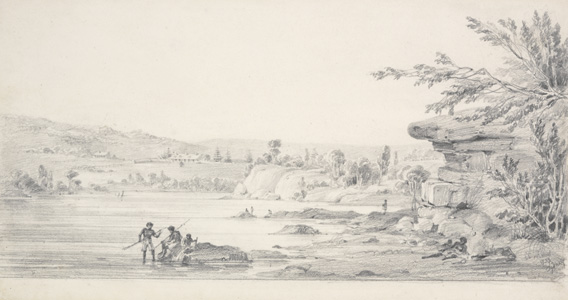 View from the Government Domain, Sydney, 1833 by Charles Rodius (1802-1860).
Pencil
Ref: PXA 997 f.2

From Charles Rodius, Views of Sydney and Parramatta, 1833.
Thirty years after the arrival of the Europeans, mixed groups of Aborigines lived in 'Blacks' camps' close to freshwater creeks in sparsely populated parts of Sydney Harbour: at Point Piper, Rose Bay, Double Bay, Darling Point and Rushcutters Bay.

In 1828 Bungaree and his Broken Bay clan occupied the Governor's Domain, which they shared with Aboriginal people from Newcastle and Port Stephens to the north of Sydney. Visitors from Alexander Berry's farm 'Coolangatta', on the Shoalhaven River, far to the south, also camped there.

These fishermen at 'Krooi's Rock' in Woolloomooloo Bay wear cut-off trousers, but still use pronged fishing spears.