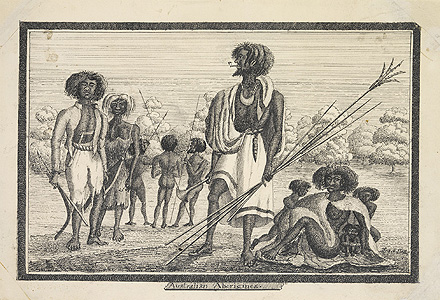 Australian Aborigines
by P. H. F. Phelps.
Ink
From the Album: Native scenes, animals, snakes, birds and marine life, 1840-49? By P. H. F. Phelps.
Ref: DL PX 58 f.9

Australian Aborigines
Armed warriors gather for a ritual duel in which an 'accused' man must defend himself, with only a shield to parry spears.

Cooman or King Kooma, at left in the Australian Aborigines group (121), was also called the last of the Liverpool or 'Georges River Tribe'. He holds a throwing stick, boomerang and shield, and has an iron hatchet thrust into his belt loop.

The woman beside Cooman is one of his wives, possibly Betsey (later Biddy Giles), or Nelly Nah Doongh. Cooman and Nelly were the grandparents of Queen Emma Timbery of La Perouse.