How to go on the land
By the early 20th century, providing information to intending settlers in New South Wales had become part of the role of the NSW Immigration and Tourist Bureau. A 1909 Bureau publication, How to go on the land in New South Wales, acknowledged the change which occurred in land use practices in the 1890s from pastoralism to agriculture. It stated:
'Until 1898, New South Wales…did not grow enough wheat to provide for the wants of her own population…between 1896 and 1906 the area under cultivation more than doubled… Every effort is now being made by the State Government to encourage the development of its agricultural territories.'
This pageturner requires a web browser with the Flash plugin and JavaScript enabled.
Get the latest Flash player
'Where golden grain is golden gain ... There is a welcome for you.'
The Country Promotion League was formed in 1920, in association with the Commonwealth Immigration Bureau, to promote our primary industries and resources, and to increase the declining population of country districts. In a series of publications during the 1920s, they advertised the opportunites of rural Australia to an overseas audience.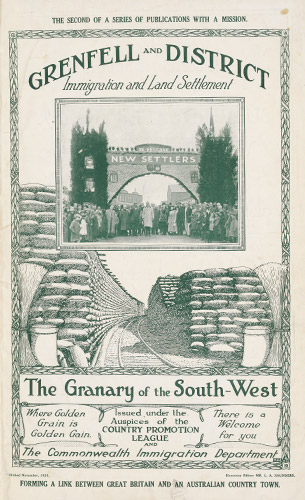 > Find more publications by the Country Promotion League, in assocation with the Commonwealth Immigration Office, via the Library's catalogue