Station stories
The loneliness and isolation of station life and outback work is part of the Australian legend, and figures large in the literature of the land and its peoples.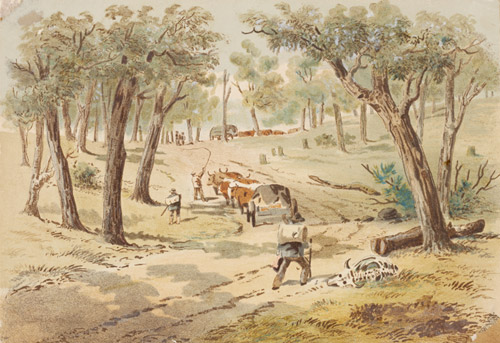 [On the Road, Black Forest, Vic.], c.1860, watercolour, S.T. Gill.
PX*D 384/ f.34a
The verse below was written by two Misses Grey, daughters of Col. Grey, at Lake Innes in 1846, as a parody on the popular song of the day, 'Last Whistle'.

'The Stockman's Last Bed'
Whither Stockman or not for a moment give ear
Poor Jack's breathed his last, and no more shall we hear
The crack of his whip or his steeds lively trot,
His clear go a-head and his jingling quart pot
He rests where the wattles their sweet fragrance shed,
And tall gum trees shadow the stockman's last bed.
When drafting one day he was gored by a cow,
Alas, cried for poor Jack, its all up with me now;
I'll no more return to my saddle again,
Or bound like a wallaby over the plain.
I'll rest where the wattles their sweet fragrance shed
And tall gum trees shadow the stockman's last bed.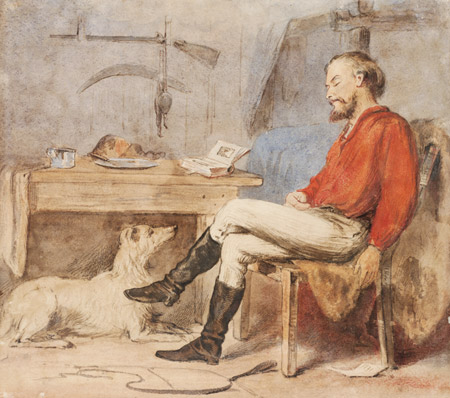 [Boundary Rider], c.1860, watercolour sketch, S. T. Gill.
PX*D 383/ f.40

My whip must be silent, my steed he will mourn,
My dogs look in vain for their master's return,
Unknown and forgotten, unheeded I'll die,
Save Australia's dark sons none will know where I lie.
I'll rest where the wattles their sweet fragrance shed
And tall gum trees shadow the stockman's last bed.
Oh! If ever on some future day,
When after a herd you may happen to stray,
Where lone and forgotten poor Jack's bones are laid
Far, far from the land where in childhood he played
Tread lightly where the wattles, their sweet fragrance shed
And tall gum trees shadow the stockman's last bed.





This tale was found in an abandoned hut on the Western Plains of NSW in the late nineenth century. With some humour, the anonymous boundary rider details an average day in the 365 which made up his uneventful year. A unique slice of colonial outback biography, this story documents the loneliness of the plains as experienced by a young man faced with unrelenting solitude. Unlike his half-hopeful musings, however, the boundary rider did not get the sack – neither did the boss find him hanging on the 'whim' (ie. bore water pump) next to his hut – instead, on hearing the 'bugle blow the call to war' in South Africa, he packed his bags and went 'whither his dust is one with the red sands...' (taken from a note in the hand of JF Archibald, editor of the Bulletin, attached to this manuscript.)

A Boundary Rider: By a Back Blocker
Page 1
Times being hard I had to take the billet of Boundary Riding and live in a Pine [Slab] Hut on the edges of an Extinct Box Swamp, one oasis of shade in the Saltbush plain, Saltbush to the North, Saltbush to the East, West & South everlasting sombre leaved Saltbush.
My hut is divided by a hessian partition, one side my Boudoir, the other my reception dining and Drawing Room.
My Boudoir furniture consists of a Bunk made out of Rabbit Proof Wire Netting, and a table [one of those "essentially chic" tables that society ladies like to have in their Drawing Rooms, the same, in that you dare not move it or the legs fall out, but slightly different in contour, make etc. The aforsaid table having flowers painted on their varnished surfaces] its top beautifully decorated [mine painted] with drops from a 40 candle power slush lamp. On the right of my dwelling stands the whim, old? Yes, 25 years old, unacquainted with modern improvements - of any kind but with it various mends, it will be able
Page 2
to [creak] its long arms when next year's drought is due. With the last March rains its work was done for this Summer & now it stands unused, ghostly & silent. I often think waiting for the day when the Boss will find me hanging from its beams, Mad from the terrible solitude of the plains. To the left is the horse-paddock & yards, knocked up out of Box Limbs, where every morning I throw the old bush saddle, its seat polished with constant riding (wholly innocent [not shinning from the use] of soft soap or a groom's elbow grease). With its single girth & [crusty] irons on the old stock horse. No surcingles, breastplates or cruppery wanted in this cursed country. No hills, nothing only Plains, Saltbush & sheep. Good sheep country the Boss calls it, he's right, but Oh Lord! did he [ride]ever live 12 months by himself on it. One day follows
Page 3
another, I get up light the fire, put the billy on & then with the old yellow cat start down the paddock for Black Bess. Betty the cat follows me Winter & Summer, every morning – In the Winter I often wonder when I see her fur all dripping wet from the dew on the herbage & saltbush, how she has the heart to follow me & what the bond of friendship is between us. A few bits of salt junk, fresh every fortnight when I kill & a fair allowance of kindness I suppose. Every night she goes out, where I don't know probably down in the Box Clump for I never see any of her kind within miles & miles of my hut, so it can't be for company's sake. Anyway there she is in the morning nearly always on the saddle cloth & when I pick the bridle up, I feel her tail & back rubbing between my legs. Black Bess sees me coming & stands patiently to be caught for her 20 mile ride
Page 4
round the paddock. Poor old woman, nothing but the black stalks and dusty leaves of saltbush day after day. The little Tank near the hut is still half full so she at least has good water a luxury indeed in these parts. She is one of the grand old stamp of Lachlan horses, that could carry a man 80 or 90 miles in a day and not be one bit the worse for it. She is old now & poor, so poor that with a crupper in hilly country you might almost [sever] her tail, with streams of tears running down each cheek, caused by the millions of cursed flies, her lot indeed is not a happy one. Where were the old horses bred? Why don't you see the same stamp now? Where were the Bushmen bred? Why don't you see the same stamp now? I see a good many travelers at Shearing time – the cockie-farming shearer with his mongrel hack & pack horse, carrying the same shears & stone from shed to shed but with a big ringed steel bit & plated three bar irons, surcingle, breastplate etc, etc., as tho' he had a thoroughbred under him, the two jockey boys, suspended license men
Page 5
with their little turned up [rimmissed] cad hats, [&] red coloured chequed (sic) coats, [tight] bandy legs & [with] [a] fox-terrier following behind. They are looking for lamb-catching, Brooms, or Baskets at the sheds. Useless devils with their cigarettes & [head-Binds]; All sorts and conditions appear at this time, sexes too. I have seen women with their husbands carrying their swag Out Back, the same will ever be, as long as the Squatter gives a 'pint of [_ust] & a bit of meat at sundown'
Well by the time I get back the billy is boiled, & with some Tea, Bread & Brownie & salt jumbuck I make my breakfast. I can't fry chops, have none, ate them all while fresh & then for the remainder of the fortnight I have 'drowned' mutton, sometimes hot , sometimes cold. Covering the fire over with ashes, I spring Old Snip (my dog) and start away for [ sons] South [Path ] – Walk, walk, walk, after a few miles are done. On a hot day I fall into a day dream
Page 6
wakened generally by my trousers, sometimes my leg catching in the ends of the wire at a figure '8' splice. I pull myself together, have a look behind to see I missed no sheep hanging on the fence & if Old Snip is there & then on I go again.
"With a heart that is well nigh to bursting on the long lonely miles on the plain
I think of the pleasure of taking the hand of a lady again" [A.B. Paterson, 'The Man from Snowy River', 1890]
By the time I have been to the [Forks] & get home, it is generally three o'clock. Another feed of Tea etc., then a ride to some Tank or other in another paddock & back home once more. The old mare has done her work & after a roll in the dust, walks leisurely along the old beaten pad to the Tank. Another feed the same as Breakfast, perhaps with the addition of some boiled rice & dried apples. The latter when supplied, I generally noticed indicated a rise in [Wools]. By the time I have washed up & if baking day is tomorrow set the dough in the bucket near the fire it is 7 o'clock.
Page 7
I chain up my dog & taking the slush lamp to my [bunk] read in the paper what took place in 1894 my latest edition raked out of a crack between the pine slabs, where
"With some immortal Caesar dead and turned into clay"
"Had stopped a crack to keep the cold away" [W. Shakespeare, 'Hamlet']
So ends one day to be repeated day after day until I get the sack, go on the spree, or hang myself on the [Whim].