Berrys
Alexander Berry (1781-1873), merchant, landowner, pastoralist and parliamentarian was born in Scotland, and travelled the world as a surgeon's mate before abandoning medicine for commerce. In search of new opportunities, Berry first came to Australia in 1808, later meeting his business partner (and future brother-in-law) Edward Wollstonecraft (1783-1832). By 1820, both men had settled in Sydney, where they were among the earliest and most enterprising cultivators of land in the colony.
In January 1822, Alexander Berry visited the Shoalhaven River, then well beyond the limits of settlement, to explore the surrounding district. The rich alluvial soils and natural grassy 'meadows' on either side of the river led the partners to select a grant of 10,000 acres at the base of Mount Coolangatta. When Berry returned to occupy 'Cullengatty Farm', later known as Coolangatta Estate, it became the first settled area on the NSW South Coast.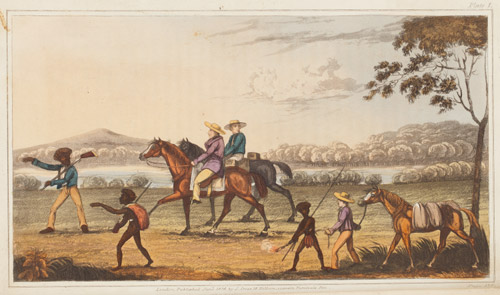 'Exploring Party', (plate 1), in James Atkinson, An account of the state of agriculture & grazing in New South Wales..., London, J. Cross, 1826. DL 82/95
Berry & Wollstonecraft took turn about at the Coolangatte Estate and their Sydney mercantile business. With a large convict workforce allocation, land clearance at Shoalhaven proceeded quickly, cattle and horse breeding got underway, crops were planted including maize, potatoes, wheat, barley, tobacco and vegetables, and Coolangatta House was completed. In January 1824, their first coastal vessel was built at Shoalhaven for transporting farm produce to Sydney.
In 1829, at Berry's request, colonial agricultural expert James Atkinson visited the Coolangatta Estate, setting out his detailed observations about the management of the property in his letter to Alexander Berry of 4 June 1829.
> Read agricultural expert James Atkinson's observations about the Coolangatta Estate




Within years the Coolangatta Esate was exporting thoroughbred horses to India, cedar to Europe and cattle, tobacco, cheese and wheat to Sydney. Land purchases increased the estate's size to about 32,000 acres (12,950 ha) in the 1840s, and to more than 40,000 acres (16,187 ha) by 1863.

After Wollstonecraft's death, the Coolangatta Estate was managed by Berry's brothers, John, David and William. Following Alexander Berry's death, the estate passed to his brother, David, and on his death in 1889, to his cousin, John Hay (1840-1909) who had been born and raised at 'Coolangatta'. Hay went on to encourage land settlement especially around the town of Berry.

> See images of life on the Coolangatta Estate


In 1900, the Coolangatta Estate became a government stud farm and school. Paddocks were stocked with a broad range of cattle breeds, including Shorthorns, Holstein-Fresians, Guernseys, Jerseys, Red Polls, Ayrshires, Kerries and Dexter-Kerries, with the aim of improving knowledge of dairy breeds and butter making.
By 1912, much of the outlying land of the Coolangatta Estate had been sold off to existing tenants and new comers to the area. In 1946, Coolangatta House was all-but destroyed when fire raged through the 19-room property leaving only the library, billiard room, hall and some outbuildings. During the 1970s and 1980s the homestead site was redeveloped as a historic resort, and a vineyard planted in 1988, which has seen the Coolangatta Estate thrive once again.