Livestock
The meat and dairy industries in Australia are some of the biggest agricultural enterprises in the country. Into the early years of the 20th century, sheep – particularly the wool industry – was one of Australia's most productive exports. 'Riding on the sheep's back' described Australia's rise to wealth based on the quality of the merino wool produced across the country. Although wool is no longer one of Australia's major exports, it is still marketed as a luxury item and Australian merino wool is considered the best in the world by the textile industry.
> Find out more about the wool industry in Australia

Sheep producers have changed their focus over the past century from wool to meat. Prime Australian lamb has become sought-after across the world. Australian sheep exports were worth over 300 million dollars in 2009. Live export to the growing markets of the Middle East and Asia has increased substantially over the past decade and the controversial practice has recently attracted attention from animal rights groups and the media.
Sheep are still considered the iconic Australian flock, but economically the cattle industry now dominates. Australia is the second largest producer of beef (after Brazil) in the world. Dairy products are also among Australia's most valuable agricultural exports.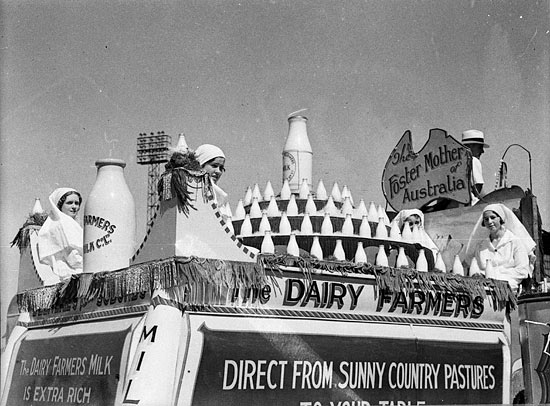 Alternatives to the traditional sheep and cattle flocks are becoming increasingly popular. Game meat in particular - goat, camels, venison, kangaroo, emu and crocodile – is eaten by many consumers and can be easily found in supermarkets.
This image viewer requires a web browser with the Flash plugin and JavaScript enabled.
Get the latest Flash player .