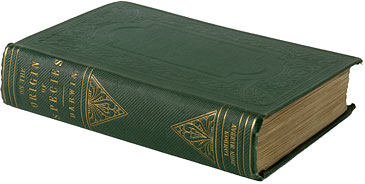 On the origin of species by means of natural selection ... London, John Murray, 1859
Charles Darwin
Printed book
Acquired Christie's, London, 13 December 2006
Safe/RB/2604

Caption: This first edition was previously owned by Darwin's great-grandson, Quentin Keynes.
'YOUR BOOK OF THE SEASON'
Observations in Australia provided some important insights for Darwin in the development of his theory of natural selection. His 'book of the season', as Conrad Martens called it, was published in November 1859. Titled On the origin of species by means of natural selection, it sold out immediately. Copies reached Australia by mid-1860. It was generally not well-received in scientific circles though Darwin had his supporters.
Darwin continued to correspond with a number of scientists and collectors in the colony who contributed ideas and specimens. These included the Rev. WB Clarke, Sir TL Mitchell, Gerard Krefft and Robert FitzGerald. The latter's landmark work on Australian orchids was dedicated to Darwin. 'I feel a great interest about Australia, and read every book I can get hold of' Darwin had written to Syms Covington in 1853.