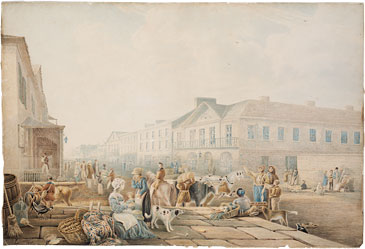 George Street, Sydney, looking south, January 1842
Henry Curzon Allport
Watercolour
Purchased 1995
ML 1111

Caption: On the left is the General Post Office where Darwin was disappointed at not finding any letters from home. The vibrant street scene, except for the gas lamps introduced in 1841, is as Darwin would have experienced it.
SYDNEY, JANUARY 1836
The whole population poor & rich are bent on acquiring wealth
Charles Darwin, January 1836
Beagle sailed into Sydney on 12 January 1836. It was the homeward leg of what had been a long and arduous voyage. Charles Darwin had had a wealth of experiences.
The town impressed him. There were some fine houses and 'well furnished' shops. He had arrived in the middle of a boom. There was extensive property speculation, interest rates were high, people were making vast fortunes and there was Sydney's trademark conspicuous consumption. It would all come crashing down in the 1840s depression.
The state of society disappointed him. Many leading citizens lived in 'open profligacy' and the existence of convict servants, and particularly wealthy former convicts, appalled him.