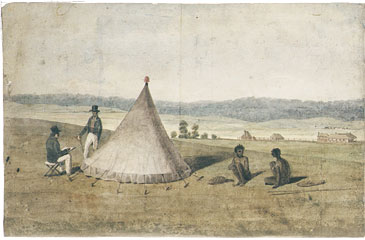 Bathurst Plains and Settlement, 1825–28
Augustus Earle
Watercolour
Bequeathed by David Scott Mitchell, 1907
ML PXD 265, f.4

Caption: Earle had been artist on Beagle but left in August 1832. He had previously been in Australia.
BATHURST AND RETURN, 20-27 JANUARY 1836
Scattered hovels in groups & here & there a good house
Charles Darwin, Bathurst, January 1836
In the afternoon of Wednesday 20 January, 'half roasted with the intense heat', Darwin arrived at Bathurst and stayed at the barracks. He rode around the district and noted a number of 'very comfortable houses' owned by 'gentlemen'.
On the way back to Sydney, Darwin took the opportunity of marvelling again at the view of the Jamison Valley.
After crossing the Nepean River on 26 November he was met by Phillip Parker King who took him to his home, Dunheved, where Darwin stayed overnight. They discussed the natural history of South America and King presented Darwin with his published paper describing his collection of barnacles and molluscs.
The next morning, King took Darwin to Vineyard, near Parramatta, the home of his brother-in-law, Hannibal Macarthur. Eighteen sat down to lunch. Darwin was startled when some of the young ladies present exclaimed: 'Oh we are Australian, & know nothing about England'.