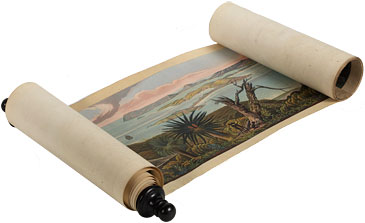 Panoramic View of King George's Sound, Part of the Colony of Swan River (detail), 1834
Drawn by Robert Dale, pulished by Robert Havell
Hand-coloured aquatint
Bequest of David Scott Mitchell, 1907
ML PXB3

Caption: The view is from the summit of Mount Clarence.
ALBANY, 6–14 MARCH
The settlement consists [of] from 30–40 small white washed cottages ... There are a very few small gardens; with these exceptions, all the land remains in the state of Nature.
Charles Darwin, March 1836
The tiny settlement at King George Sound had been established in 1827 to frustrate the French. It was named Albany in 1832. It was the end of the world.
Darwin walked many miles around the settlement examining the geology and collecting natural history specimens including 48 previously unknown species of insect. He was impressed with the Aboriginal people: their 'good disposition' and willingness to work. Ever interested in the customs of the local inhabitants, he arranged a corroboree between the local men and a visiting tribe.
Darwin caught the Australian bush rat (Rattus fuscipes) in a trap baited with cheese. It had not previously been seen or described.
Darwin farewelled Australia:
... you are a rising infant & doubtless some day will reign a great princess in the South; but you are too great & ambitious for affection, yet not great enough for respect; I leave your shores without sorrow or regret.