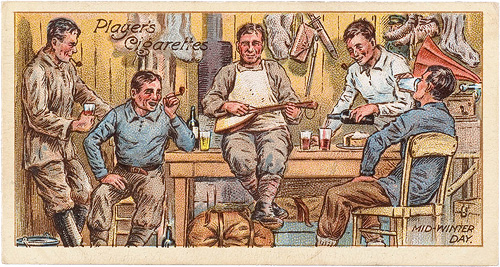 Mid-Winter Day at Cape Evans in the Men's Quarters, c. 1916
John Player & Sons
Cigarette card from the Polar Exploration series, printed ephemera
ML Safe 1/197 No.12

During the 1880's, blank cards were inserted into soft paper cigarette packets to reinforce them and protect the contents. Printed advertising on the cards soon followed and interest really caught on with thousands of different sets issued by over 300 tobacco companies. Once it became popular to collect sets of cards, albums were produced to contain them. The detailed content of the cards reflect the social history of the time. Each card in a set had a different picture and textual explanation, centred around the same theme.
Display period: October 2007 – September 2008