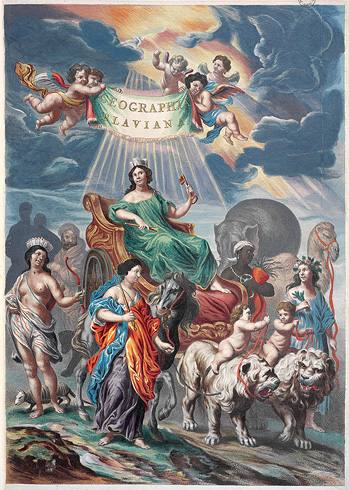 Geographia Blaviana, 1667
Frontispiece from Vol 1 of Atlas Maior or Le Grand Atlas, ov Cosmographie Blaviane en laquelle est exactement descritte la terre, la mer, et le ciel, copper engraving in bound volume, handcoloured by Joan Blaeu
RB /RF 912/61–72

Dutch printer Joan Blaeu's (c. 1596-1673) major work was a multi-volumed, grand world atlas often known as Atlas Maior or Le Grand Atlas. Designed to appeal to the wealthy consumer, the atlas boasted fine bindings, lavish hand-coloured maps, and detailed engraving. In the latter part of the seventeenth century, this atlas was the most expensive set of printed books money could buy.
Display period: October 2007 – September 2008