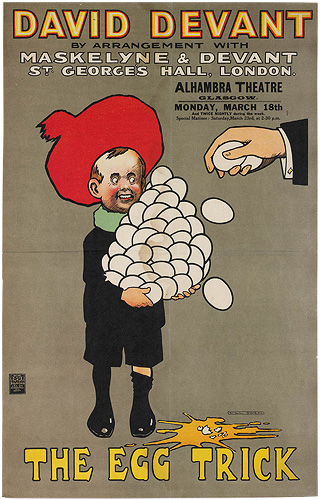 David Devant, The Egg Trick, c. 1910
Will Owen
Printed poster
Robbins Stage Magic and Conjuring Collection

Robert Robbins was born in Sydney in 1929, and at the age of 14 was the youngest magician to perform at the Tivoli Theatre in Sydney. Throughout his brief but magical career he went by the stage name of 'Robert Merlini'. Robbins believed that 'if you wanted something new, you'll find it in an old book'. The Robbins Collection of Stage Magic contains over 900 books, trade catalogues, pamphlets and serials, dating from 1799 to 1962. A slim volume, Magic and pretended miracles and remarkable natural phenomena, published in 1799 is the oldest item in the collection. The collection also includes news cuttings, notes on magic tricks, performance programs and signed photographs of many of the world's greatest magicians.
Display period: January – September 2007
This item is no longer on display in the exhibition