Explore Our Stories

Where did we find them?
All areas below stairs revealed jewels of our history often unplayed or unused for quite some time. Here is just a small selection.
Preserving the Federated Society of Boilermakers, Iron and Steel Shipbuilders of Australia Trade Union Banner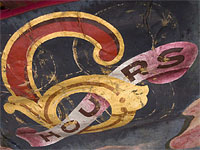 This 3m x 3m double sided banner was used by the Federated Society of Boilermakers, Iron and Steel Shipbuilders of Australia in the Eight Hour Day processions. It is double sided with two outward facing oil painted panels surrounded by a magenta-toned silk border.
Union banners were originally displayed hanging in large frames, which were also used to carry them during the processions. Extensive use during its functional life, and inadequate storage, left this banner in poor condition. The silk border was worn and abraded with many creases and tears.
The Library's skilled conservators carried out detailed conservation work on the banner over a period of 5 months. They also consulted fellow experts on the current best practice for preserving the banner, both for the ONE hundred exhibition and into the future. Work included:
cleaning;
reducing the white bloom on the surface of the oil painted panels;
relaxing the ripples over many months in climate controlled humidity;
stabilising fragile and brittle areas; and
improving the housing and storage system.

Surf Beach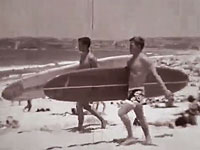 Most Australians live close the nation's long coastline and its thousands of sandy beaches. Sun, sand and surf occupy our leisure time and have shaped our national identity. During the twentieth century the beach came to symbolise the Australian way of life – its independence and freedom.
Bodysurfing and swimming, still banned in Australia at the turn of the twentieth century, have since become popular beach activities. Board surfing was introduced to Sydney as early as 1915, but it wasn't until the mid 1950s, when American lifesavers brought lighter Malibu boards to Australia, that surfing flourished.
The iconic surf lifesaver, tanned and selfless, continues to keep Australia's beaches safe each summer. Lifesavers have rescued more than half a million people since beach patrols commenced at the beginning of the twentieth century.
This motion picture records a summer day on the beach at Bondi, New South Wales during the 1960s. Film and Video, B2932
Published: Australia : Australian Commonwealth Film Unit, 1965 Motion picture
The Drover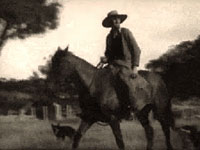 The life of a sheep drover, driving large flocks of sheep over long distances, may seem foreign to many Australians today, but these resourceful men were once integral to the Australian pastoral industry.
The Australian wool industry recently marked 200 hundred years of international trade. 1807 saw the first shipments of Australian wool to England, Australia's primary export market for more than 140 years. With a suitable climate and shrewd breeding programs, Australian wool was soon coveted for its fine, soft character. Today, Australia remains the world's largest supplier of wool, sustaining just under 100 million sheep across the nation.
The Australian Wool Board was established in 1936 with the joint aims of improving the production of wool in Australia and of extending the use of wool throughout the world through publicity and research activities. This Australian Wool Board short film records the day-to-day life of a drover in Australia's sheep country in the early 1950s. Film and Video, B111
Published: Australia : Australian Wool Board, 1951.
Motion picture script, John Moyes; photographer, S. M. Dolan; editor, Sydney Whiteley; sound, A. C. Smith.
Fabulous Sydney
Deep in the stacks, still on the original 16mm film stock, this 6 minute look at Sydney was found and digitised. It describes Sydney by day and night, a look at everyday life in the 1960s. 6 mins. A2962
© Eric Porter Productions. Courtesy of Mrs CJ Porter
Published: Australia : Eric Porter, 1965.
Series: Know your Australia
Donation: Sydney City Council
Sydney Harbour Bridge Builders – Interviews 1982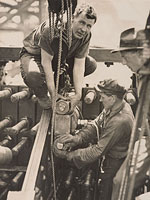 In 1982 Richard Raxworthy, one of Australia's leading oral historians, began a project to interview people who had worked on building the Sydney Harbour Bridge.
Raxworthy (1932-2003) was born in England and was a marine engineer in the merchant navy. He spent over 15 years at sea arriving in Sydney in 1967. He followed various callings in this 'land lubber' new life until, always a great reader, he determined to advance his education and enrolled in BA Communications at UTS, Sydney. The 'Bridge Builders' began as a university assignment - and a passionate pioneer oral historian was born.
Until he died of asbestosis, a legacy from his seafaring days, Richard was dedicated to his new profession. Held ML0H1
Published: Marrickville, N.S.W. : R. Raxworthy Oral History, c1982.
Sound recording / interviewed and recorded by Richard Raxworthy
Keeper of a Nation's History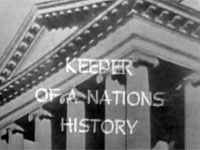 Introduced by Mungo MacCallum, this 1956 direct telecast from the Mitchell Library shows MacCallum interviewing John Metcalfe, Jean Arnot and Gordon Richardson (Principal Librarian and Mitchell Librarian).
This footage was gifted by a retired ABC staff member to a State Library volunteer, Lorraine Rook, in 2005. Lorraine was presenting to a group called Computer Pals Epping – this rare footage was a thankyou gift. VC196, VC197
Published: [Sydney, N.S.W.] : ABC, [2007]
Credits: Original production by Arnold Wyndham
Patrick White
Patrick White (1912-1990) is the only Australian to have won the Nobel Prize for Literature (1973). He had a long association with the Mitchell Library dating back to childhood memories of being brought here in 1917 to witness the donation of his uncle's peerless collection of pre-Federation postage stamps – the H.L. White Stamp Collection.
White used the Library for research, was a donor of books and artwork during his lifetime and, on his death, bequeathed his entire book collection to the Library.
His works include The aunt's story (1948); The tree of man (1955); Voss (1957) and Riders in the chariot (1961).
The Patrick White Award, established by White with funds from his Nobel prize money, is awarded annually to a writer who has not received adequate recognition.