Bringing the Library OUT

What is OUT?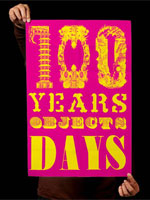 When we asked our readers and the public what they thought of the Library we got some strong responses. Many found the Mitchell intimidating and inaccessible.
But once online or inside the library, and after discovering the information, the people, and the collections, they loved it!
So the message was very clear. Bring OUT the Library's knowledge and collections, and unify the Library's services, online, onsite and beyond. Speaking OUT about the exciting Mitchell collections, its never seen before objects, and its untold stories awaiting to be told, became our mission!
Celebrating the Mitchell Library centenary
OUT is the character of the Mitchell Library's centenary in 2010 – taking the library and its collections out into the community in a refreshing and surprising way. It is playful, loud, witty and intelligent.
The centenary celebration not only honours the Library's past but asserts its relevance to the future. Everything we do in our centenary year – our tone, message, personality and approach – is to take the Library OUT into the community.
TAKE OUT, OUT BACK, OUT POST, OUT LOUD, FIND OUT, INSIDE OUT, SHOUT OUT, OUTSTANDING, OUT OF THIS WORLD.
And so the list goes on …