Chalk Art

A new perspective on the Mitchell Library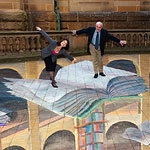 In keeping with the centenary campaign theme OUT we were looking for new ways to take a peek into the Mitchell Library and its collections. Rarely do the public get the sense of what its like or the opportunity to delve below stairs and discover items that quite unexpectedly grab their attention or spark their curiosity. Why not then bring the collections out to the people instead ...?
Timelapse
Check out the timelapse optical illusion created by Sydney-based chalk artists Anton Pulvirenti and Rudy Kistler to bring the Mitchell Library OUT.
It took Rudi and Anton three full days – and over 30 hours – to create the pavement art illusion of being able to see in to the stacks below the hundred year old Mitchell Library building. Objects from the ONE hundred exhibition rise magically, with books flying out towards you, this is a truly unique view of the Mitchell Library and its collections.
Behind the Scenes
Find out how Rudi and Anton created their incredible artwork on the Mitchell Library's western forecourt.
For more information on the artists visit www.zestevents.com.au