Explore the continuously evolving Heritage Collection, presented by the Nelson Meers Foundation.

Philanthropy in action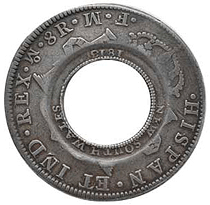 Holey dollar, obverse, 1813, Silver
Poss. Bequest of David Scott Mitchell, 1907
ML Safe 1/17b
The Nelson Meers Foundation is proud to support the State Library of New South Wales' Heritage Collection series.
Until now, the high cost of preserving and exhibiting the many extraordinary items held by the State Library of New South Wales has prevented it from making these items available for public viewing. The Nelson Meers Foundation is delighted that it has been able to participate in the realisation of the Library's dream of exhibiting these significant cultural treasures.
We hope that this collaboration between the Library and the Nelson Meers Foundation in presenting the Heritage Collection will demonstrate the important part that modern-day philanthropy can play in our society, and thereby provide an incentive for giving by others.
Samantha Meers
Executive Director, Nelson Meers Foundation