Explore the continuously evolving Heritage Collection, presented by the Nelson Meers Foundation.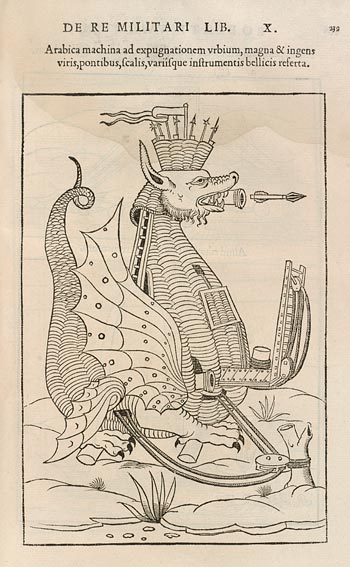 Tank, c 1460
Roberto Valturio (1405-1457)
Woodcut in bound volume
From De re militari libri XII, 1535 SC/Q610

Many important works on the principles of warfare and military tactics were printed in Renaissance Europe. The growing importance of military engineering, firearms and explosives throughout the fifteenth and sixteenth centuries is documented in the fascinating illustrations contained in many of these early works. To our eyes, these examples of siege engines, cannons and battering rams appear fantastic and optimistic. This fiercely decorated 'tank' of Arabic origin provided protection for several soldiers and shot deadly missiles from its mouth.
On display: January to November 2009