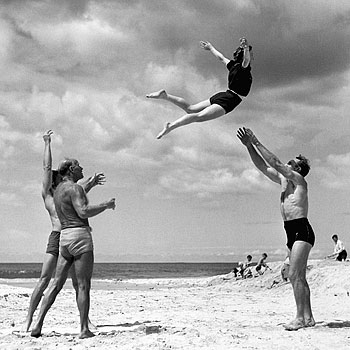 George Caddy, 22 September
a2391051

Alf Stanbrough and another gymnast throw Bonnie Hawkins to a catcher in a dangerous adagio movement called 'Flight of a bird'. Adagio acts were a mixture of dance and acrobatics, where a woman was thrown or spun around by her partner or partners. When Australian adagio dancers, the Reopete Trio, performed this throw in 1938, Pix magazine observed:
This movement requires perfect timing by all three, otherwise the girl might be seriously hurt.
Adagio dancers the Alvaradoes, who regularly practised on Bronte Beach in 1936, called it the 'Throw up Bird'.