Royal Randwick Racecourse
Racing has been a popular pastime in Sydney from the early days of the colony. Randwick Racecourse dates back to 1833. Until then, Hyde Park in Sydney's centre had been the main city venue for races. Dedicated ground was needed to accommodate racing's enormous popularity and in January 1833, Governor Bourke designated land on Botany Rd, Randwick, for use as a racecourse.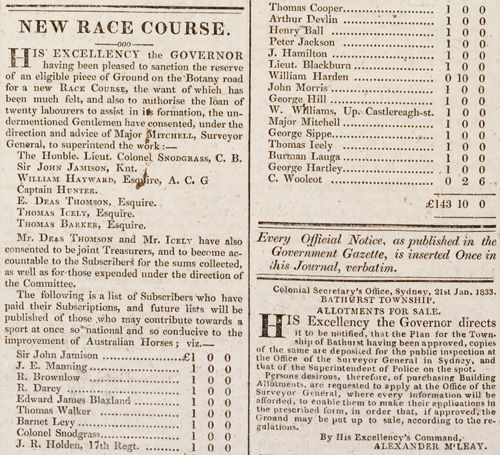 A committee working under the supervision of Surveyor-General Sir Thomas Mitchell laid out the course. The first event was a private race between two horses in June 1833. Randwick was originally known as the 'Sandy Course' thanks to the condition of the ground and the track soon began to deteriorate. In 1840 racing was discontinued and the course was used for training only.
> View maps from 1853 and 1933 showing the location and development of the racecourse and the Randwick area

The Australian Jockey Club (AJC) was formed in the early 1840s. The AJC was first based at the racecourse at Homebush, which opened in 1841 on land belonging to William Wentworth.
In 1860, the AJC moved its headquarters to Randwick and public racing resumed at Randwick in May 1860 before a crowd of 6000. Bell's Life in Sydney reported on the first autumn meeting, declaring it an almost complete success, 'with a muster of eight or ten thousand persons'.
> Read about the AJC's first Randwick meeting at Randwick in 1860 in Bell's life in Sydney & sporting reviewer

The Randwick racecourse land was officially granted to the AJC in 1863. From the first AJC meet in 1860 right up to the present day, the AJC has held regular race meetings at Randwick. The State Library holds many examples of AJC race books including several in the Davis Sporting Collection.
> Look inside a 1931 AJC race book

One of the longest running races held at Randwick is the Australian Derby, which started in 1861 as the AJC Randwick Derby Stakes and was won by Kyogle. Over the years, many great Australian racehorses have won this event for 3-year-old thoroughbreds, inlcuding Phar Lap (1929), Tulloch (1957) and Kingston Town (1980). The Derby was originally part of the Spring Meeting, but in 1979, it was moved to the Autumn Meeting. Another famed Randwick race is the St Leger Stakes. This is Australia's oldest classic, first run in 1851 in Homebush.
> See panoramic views of Randwick Racecourse during the Autumn Meeting, 1914

For more than 150 years, race meetings at Royal Randwick Racecourse have been some of the most popular events on the Sydney social scene. The State Library holds a significant number of photographs documenting this fascinating social history.
> See nearly a century of images of racing at Randwick from the 1860s to the 1950s