Horses in the new Colony
The introduction of the horse was vital to the settlement and development of Australia, for transportation, in agriculture and industry and for communication.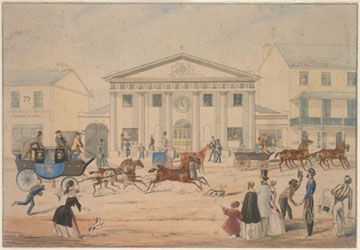 In the early days horses were scarce and expensive. Military officers and free landowners rode saddle horses to set themselves apart from the lower classes. This quickly established the cult of horse ownership. Many of the horses imported into the colony were of very high quality. Rockingham, the first English thoroughbred stallion, was shipped from South Africa in the late 1790s by a young naval officer named Henry Waterhouse.
> Experience Henry Waterhouse's eventful voyage from Cape Town to Sydney through his letters to his father, William Waterhouse

After their arrival in 1810, Governor and Mrs Macquarie set an unprecedented standard in colonial horse ownership and transportation by travelling around town - and into the countryside - in a splendid carriage drawn by four horses.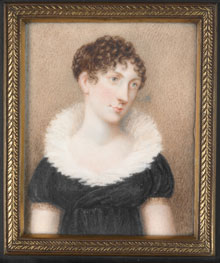 Elizabeth Macquarie, 1819, unknown artist
Watercolour on ivory MIN 237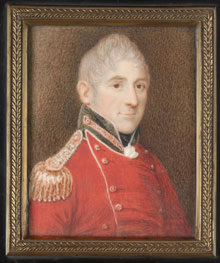 Lachlan Macquarie, 1819, unknown artist
Watercolour on ivory MIN 236
The Macquaries were passionate about their horses and commissioned convict architect, Francis Greenway, to design a large and extravagant stable building to accommodate the horses for Government House. (This building is now the New South Wales Conservatorium of Music.)
With few social activities available in Sydney, Governor Lachlan Macquarie began a new era in Australian popular culture when he approved the establishment of an annual racing carnival.
In October 1810, Governor Macquarie inaugurated the first official race meeting at the new Sydney Racecourse. Macquarie saw the racecourse as a perfect neutral meeting place for colonists of all classes: military, convict, emancipist and immigrant.
Funded by public subscription, in August 1810 soldiers of Macquarie's 73rd Regiment cleared and levelled ground on the eastern edge of the town and marked out the course. The straight commenced at the turn from Park Street into Elizabeth Street, with the grandstand (erected in 1813) and the winning post at the junction of Market and Elizabeth Street, on the present day site of St James Railway Station.
> Read the report about the race meeting in the Sydney Gazette & NSW Advertiser from October 20, 1810