A day at the races: the horse in Australia
The first horses arrived in Australia in January 1788. Along with the First Fleet's convict cargo, a stallion, four mares, a colt and a filly were landed at Port Jackson. By 1810, there were 203 horses in New South Wales, and the horse population rose dramatically throughout the 19th century - at its peak, there was approximately one horse for every two people in Australia.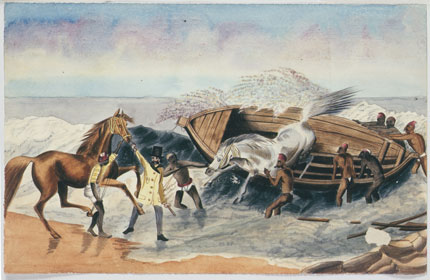 Horse racing was one of the first sporting activities organised in the colony. Race-going cut across all levels of society and continues to play a significant part in Australian sporting history.
Material from the State Library's rich collections is used to explore the story of horses and horse racing in Australia. Sporting and racing publications, correpsondence, ephemera, artworks and photographs all help bring this exciting culture to life in A Day at the Races.
A day at the races is made possible through a partnership with Arrowfield.