Sir Francis Forbes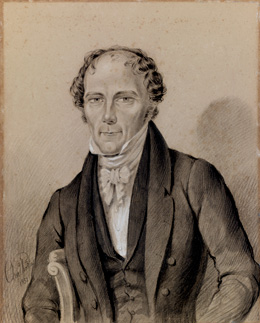 Chief Justice Sir Francis Forbes, 1852
Charcoal & crayon drawing by Charles Rodius.
DG 272
Sir Francis Forbes (1874 – 1837) was appointed in 1823 as the first Chief Justice of the Supreme Court of New South Wales and arrived in Sydney in March 1824. He was also an official member of the Executive and Legislative Councils and had the final authority to approve new laws as being consistent with English law. Granted with such powers, the position of Chief Justice would inevitably lead to confronation with the Governor. Forbes held strong convictions about the fundamental significance of the separation of powers between the Executive and the Judiciary, and the rights of the press.
Confrontation arose between Governor Darling and Chief Justice Forbes when Forbes advised Darling that his actions in punishing Sudds and Thompson so harshly were illegal. Forbes saw the case as a miscarriage of justice, as well as a 'political juggle'.
Forbes' correspondence relating to the Sudds and Thompson case contains the opinion that the punishment was 'contrary to law' and conducted at the 'sole fiat of the Governor'. He mentions the charges by Captain Robison against Governor Darling, and Robison's trial and court martial. Many of the letters are addressed to Forbes and written by Darling and Robison.
> View full record of the Forbes correspondence relating to the Sudds, Thompson, and Robison cases (A 743)

Transcript
[Page 1]
Engineer's Office 4th Dr. 1825
George Plumly overseer of the Gaol Gang E.P. having said to me on my visit to his gang on saturday last that Thompson the Soldr. of the 57th Regt. lately sentenced to work in irons, had conducted himself with regularity, the Gov. has been pleased to direct that the iron ring round his neck, & small chains leading from it to the leg irons, shall be struck off, and has desired me to request that you will be good enough to see that these parts of his chains are withdrawn accordingly – leaving only the ordinary leg irons & chains, similar to those worn by the other prisoners
I have the honour &c
(signd.) W. Dumaresq Captain &
Inspector of Convicts
To H.J.K. Superintendent E.P.
Note – Thompson arrived at Emu Pls. on the thursday, & went to the gang on the day following - consequently he had been only one day on the road, when Plumly the overseer is reported to have matd. his regular conduct - This letter addressed to the Superintendent of E.P. who had nothing to do with the gaol gang on the Roads –
When
The letter was recd. at E.P. (on monday night) & Thompson had refused to work in heavy irons, & was sent to the Gaol at Penrith
[Page 2]
Copy
Governt House
23d March 1828
Sir,
If having been this moment intimated to me, that Captain Robison of the Royal Veterans has transmitted charges against me to His Majesty's Government, and that you assisted in preparing the Charges; I feel it to be due to the high station you fill in this Government, to appraise you without loss of time of their circumstance, as a
His Honor
Chief Justice Forbes
[Page 3]
a means of affording you an opportunity of contradicting a report of so injurious a tendency.
I have the honor to be Sir,
Your most obedient and
most humble Servant
Ra. Darling
[Page 4]
Copy
Sydney 23d. March 1828
Sir,
I feel much obliged to your Excellency for the candid manner in which you have informed me of the report which had it's having been intimated to you, that I had assisted Captain Robinson of the Royal Veterans, in preparing charges against you – and in the same spirit of candour, I beg to assure you, Sir, that the report is entirely untrue.
From my intimacy with the family of Mr Justice Stephen, I understood that Captain Robinson felt himself aggrieved by you as his commanding in Chief officer, and His Excellency
The Governor
etc etc etc
[Page 5]
that he intended to complain of what he considered as grievances – And as a friend of his wife's Mr Stephen's family, I suggested to one whose opinion I knew was influential in with the rest of the family, that Captain Robinson should be cautious of preferring charges against his commander. and that he had better endeavour to get any supposed grievances redressed by the intercession of his friends than by an appeal to the Commander in Chief – But Whether Captain Robinson has transmitted made any charges against Your Excellency or not, I do not know; nor can I call to recollection distinctly recollect one single
[Page 6]
specific circumstance, of which I understood him to complain – I have never had any communication with him upon the subject; and when he was I met him he was in Sydney a few days since , I met him, by accident, (an association which probably gave [indecipherable] to the reports) at the tea table of Mr Justice Stephen, in company with the rest of his numerous Mr Stephen's family, and at no other time.
Having, I hope, satisfied Your Excellency of the unfounded nature of the report, I must beg that Your Excellency will inform me who it was that might by communicated to your Excellency mentioned it to my prejudice, to prejudice me in the opinion of Your Excellency -
[Page 7]
Sketch of Defensive Operations.
1. Get the facts of some of the more glaring acts of injustice & oppression towards private Individuals & officers of Government, of some of the principal of these take the following-
Case of Sudds
Get the proceedings from the Commencement of the to the sentence from the Sydney Police.
Sydney Gazette containing the Gov.t order upon the subject. Particulars from the Individuals who saw the exhibition - Statement of what took place in the Gaol from Sudds' return until his death.
Mitchell and McIntyre dissected Sudds, and McIntyre reported upon examination that he died of inanition- that the brain, intestines, and all the organs more immediately connected with life, being in a sound and healthy state, and there being no then apparent cause for dissolution.
Toole the Gaoler will state that he sickened and died in consequence of his disgrace and the iron round his neck acting upon a weak and debilitated frame, prevented his taking natural rest.
Case of Thomson
This man's sentence was simple exile for petty larceny. He also was exhibited in manner resembling being put in the pillory, & afterwards worked in chains with an iron collar round his neck upon the high road- leading to Bathurst, near Emu Plains, until becoming
[Page 8]
ill at the end of some weeks, he refused to work any longer, alleging that his sentence was illegal. He was removed to the Gaol at Penrith, from thence to the hulk, and ultimately sent to Moreton Bay, in compliance with his sentence - the first part of the punishment being contrary to law his sentence, and also to law and added by the sole fiat of the Governor.
Arbitrary conduct in encreasing Punishments of Individuals in situations too humble to admit of their obtaining protection or redress.
See case of the Pirates - Sydney Gazette, Feb.y 24. 1827.
Under this head, any other cases of Individual oppression.
[Page 9]
(in margin – 3.W. 4. No.3).
Sect 3 = enables court to sentence offenders convicted of transportable offence to be kept to labor in irons. Roads or Public Works of the Colony
Sect 4 = every sentence of transportation passed in due course of law - and every order of transport'n made by Gov'r in lieu of capital punishment, subjects the offender to be transported to such penal settlement within the Colony as Gov'r shall appoint.
Sect.7 = Every offender so transported to a Penal Colony shall be under the management of a Superintendent appointed by the Governor - and every such Superintendent shall have power as incident to the office of Sheriff or Gaoler - and such Commandant Superintendent shall keep every offender in his custody to labour subject to such Rules and Regulations to be made for the management and discipline of such penal settlement by the Governor with the advice of the Executive Council.
Regulations made by the Governor in July 1829, still in force.
(In margin – Vide Sessional Paper No. 335 - 12th March 1832
Sess. Paper- No. 814 14th August 1834)
Dispatch of Sir R Bourke upon Secondary Punishment – states that there are various grades of punishment at Norfolk Island – and the Convict sentenced in Syd. to confinement on Norfolk Isld. will be considered in the same light as an offender transported from the colony of N.S.W. and subject in every respect to the treatment prescribed by the Regulations
[Page 10]
The prisoners upon arrival on N. Island, are placed on what is termed the second Class - they these are obliged to be kept to hard labour from sun rise to sun set with stated hours for ref meals –
(in margin Reglon 48th.)
The prisoners of the first class have certain indulgences, which make their condition hardly distinguishable from ordinary servitude in N.S.W.
"None are compelled to wear irons except such as are considered turbulent disorderly and dangerous characters and for whose safe-keeping the use of irons is necessary, and such as by special order of Govn't. in cases of commutation from capital punishment" –
(in margin - Session Paper)
the rule of the Gov.& the Executive Council, being to impose irons on criminals whose offences have been accompanied with violence" -
The Sections of the local act 3.W 4 No 3 which relate to the Penal Settlements are borrowed from the act of Parliament 5 Geo.4 C.84 Sections 13-14-15 =