Governor Ralph Darling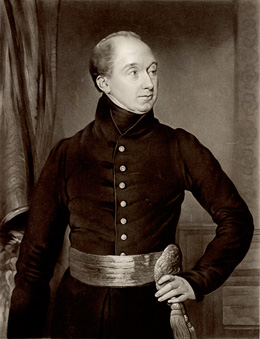 Sir Ralph Darling,
engraved by J. Richardson Jackson,
painted by J. Linnell
Print, 1 mezzotint - plate mark. P3/225
Sir Ralph Darling (1772 – 1858) was appointed in 1824 as Governor of New South Wales. He was a strict disciplinarian and regarded the actions of Privates Sudds and Thompson as intolerable. He was therefore determined to stamp out potential rebellion in the 57th Regiment and make an example of the two men.
In England on the 11th July 1827, Lord Viscount Goderich advised Darling that he had acted illegally in commuting the sentence. His advice was that Thompson should be discharged from further punishment. Meanwhile the relationship between Governor Darling and Chief Justice Forbes had become so strained that in 1828 Sir George Murray, Secretary of State for the Colonies, warned them that if their relationship did not improve, Darling would be relieved of his command and the judge recalled.
Patrick Thompson returned to England in October 1829. In September 1835 he appeared before the Select Committee to inquire into the conduct of Governor Darling. The Committee eventually proclaimed Darling 'entirely free from blame'.
This original letter from Darling and reply from Forbes, states Forbes' view that Darling was incorrect to withdraw prisoners from transportation and place them to work on the roads.
Transcript
Private 6-12-26
My Dear Sir,
I send for your perusal Mr Morris' opinion in the case of Sudds and Thompson – and shall be glad if you can find time to look into it, in the course of
[page 1]
the day – I hope to have the pleasure of seeing you at Dinner, after which I shall be glad to speak with you on the subject.
Most sincerely
Ra. Darling
Wednesday Dec 6th
[page 2]
6th Dec 1826
Memorandum – I answered immediately, that the opinion of Mr Moore was correct, as to the sentence passed by the Justices in sessions viz, transportation – but I intimated a doubt whether the power given by the ordinance of 10t h August to the Governor, to "withdraw" persons from transportation, was intended to give a general authority to work in irons on the high roads, until the person had been actually transported and had afterwards committed some act of misconduct, to call for added punishments.
[page 3]
Sudds case
6 Dec 1826
[page 4]