The Tichborne case: a Victorian melodrama
The case of the missing heir, Sir Roger Tichborne, became one of the most celebrated and widely-publicised legal cases of the 19th century.
Roger Charles Tichborne was born in Paris on 5 January 1829. He was raised mainly in France, although the Tichborne lands and fortune were based in Hampshire, England, where his uncle was the 8th baronet. As a result of his upbringing, Roger spoke English with a strong French accent.
At the age of 20, Roger joined the 6th Dragoon Guards in Dublin, but sold his commission three years later in 1852. In 1853, Roger's father inherited the Tichborne baronetcy after the deaths of his two elder brothers. In the same year, Roger, now the heir to the Tichborne title and fortune, travelled to South America. In 1854, he boarded a ship, the Bella, bound for New York, but less than a week later, the Bella was lost at sea and Roger was declared dead in 1855. The Tichborne baronetcy was passed to Roger's younger brother Alfred in 1862 when his father died. Alfred died only four years later, just months before the birth of his son, who inherited the title at birth in 1866.
Roger's mother, Lady Henriette Tichborne, was devastated by the news of her son's disappearance at sea. She remained hopeful that he had survived the shipwreck and sent out inquiries across the world as to his whereabouts.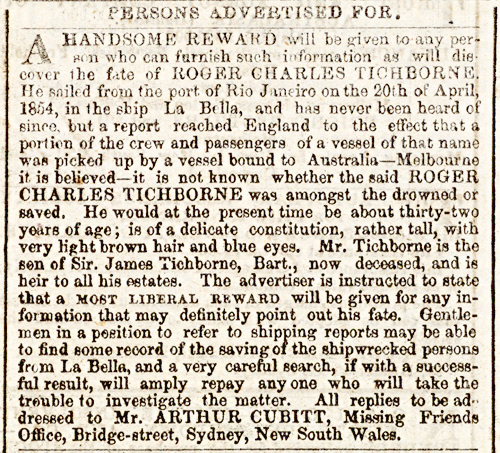 In November 1865, Australian solicitor William Gibbes sent Lady Tichborne a letter, informing her that a man, claiming to be her son, had contacted him. This man was a butcher from Wagga Wagga, calling himself Tom Castro. Although he was physically larger than Sir Roger, had lighter hair and spoke no French, these discrepancies did not bother Lady Tichborne, who had not seen her lost son for more than ten years. She was so desperate to find him that she sent for Castro, who arrived in London in December 1866. He visited the Tichborne estates and met family acquaintances who had known Sir Roger. Castro acquired some powerful supporters, including the Tichborne family's own solicitor, Edward Hopkins, and Andrew Bogle, a former servant of Sir Roger's uncle. Several weeks later, Castro travelled to France to meet Lady Tichborne. The bereaved mother claimed to recognise her son and after her acceptance, several others in the family followed suit. Lady Tichborne settled Tom Castro in England with a handsome allowance. Through his contact with the Tichborne family, Castro was able to thoroughly research Sir Roger's life and maintain the deception.
Other members of the Tichborne family were not convinced. Thanks to an agent in Australia, they discovered that Tom Castro was in fact London-born Arthur Orton, who had jumped ship in Chile and made his way to Australia. (Orton had used his genuine South American experiences to good effect when convincing Lady Tichborne that he was her son.) Foolishly, Arthur Orton had even contacted his own family in Wapping when he arrived back in London, which the sceptical Tichbornes later discovered.
After Lady Tichborne's death in 1868, Orton was compelled to continue the pretence, as he needed the Tichborne inheritance to pay off his large debts. This led some of the Tichborne family to take him to court over his claim, beginning one of the most celebrated legal cases of the nineteenth century.
> View contemporary broadside ballads and caricatures poking fun at the Tichborne claimant

The first trial lasted almost a year, from 11 May 1871 to 5 March 1872. Tichborne v. Lushington was a civil trial to establish Orton's claim to the Tichborne inheritance. Nearly one hundred people spoke in Orton's defence, but the holes in his story soon became obvious, particularly his inability to speak French – Sir Roger's childhood language.
Arthur Orton's perjury trial, Regina v. Castro, began in 1873 and lasted over six months. This time a jury had to be convinced that Orton's claim to be the lost Sir Roger Tichborne was false. Again, the evidence against Orton was damning, and in February 1874, he was convicted of two counts of perjury and sentenced to 14 years' hard labour by Lord Chief Justice Sir Alexander Cockburn.
> View a photograph album which depicts the main players in the Tichborne trial
The trial attracted a huge amount of public interest and divided the populace into supporters and sceptics. Orton's defence lawyer, Edward Kenealy, was elected to parliament and tried, without success, to have the Tichborne case examined by a Royal Commission. Orton served ten years in prison, getting out in 1884. Although he confessed once, in 1895, to being an impostor, he later withdrew this confession.
Ironically, after his death in London in 1898, Arthur Orton was officially acknowledged as Sir Roger Tichborne once more, with the coroner, his death certificate and his coffin plate all naming him as Sir Roger. The London Daily Mail said:
'The Judges of the High Court were two years in determining that the living Tichborne was Orton. The Registrar of Births and Deaths determined in two minutes that the dead Orton was Tichborne.'
> View a selection of comics satirising the story of the Tichborne case in silhouette cartoons