Crime and punishment
Joseph Sudds and Patrick Thompson conceived a plan to steal several lengths of calico from a shopkeeper. Their aim was to be sentenced to transportation and thus escape their military service. They were convicted of larceny and sentenced to seven years transportation, but Governor Darling wished to make an example of the two men. He increased the punishment to working in a chain gang. On the 22nd November they were stripped of their uniforms and dressed in convicts' clothing. Sudds and Thompson were drummed out of the regiment to the tune of the Rogue's March.
Iron chains, personally designed by Governor Darling, were hung from a spiked iron collar around the prisoners' necks, to the waist, then to the ankles. The chains were three times heavier than the chains worn by convicts in the road gangs. The two prisoners were unable to stand erect or to lie down at full length. Sudds was already ill when first sentenced and by this time could hardly stand. In this state, and wearing the heavy iron collar and chains, his illness worsened and he died five days later.
The above drawing shows the Military Barracks and Parade Ground in the distance where Sudds and Thompson were drummed out of the 57th Regiment.
> See the full Panorama of Sydney, 1829 (SV1/1829[?]/a-f)

Captain Robison, Commander of the Bathurst District, was openly critical of Governor Darling's handling of the case. Robison was court martialled in July 1828 for insubordination. On publication of a pamphlet detailing Robison's criticisms in 1833, Darling prosecuted him for criminal libel and Robison was sentenced to four months' imprisonment. The pamphlet contained serious charges against Governor Darling, and when criminal proceedings commenced, Robison withdrew the copies from circulation, thus adding to its rarity.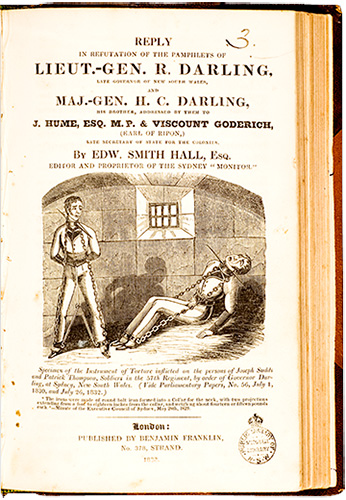 > Read the full text of the pamphlets relating to the Sudds & Thompson case