A miner's life: living on the goldfields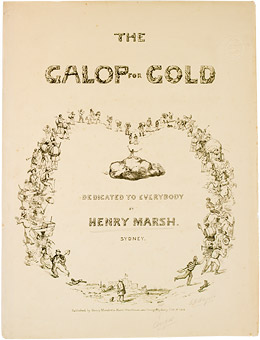 The Galop for gold, dedicated to everybody
, by Henry Marsh, piano music, Sydney, 1852, Q86/29
Music, theatre and dancing were some of the pastimes that the diggers and their families indulged in when not mining for their fortunes.
Musical diggers travelled with their portable instruments to the goldfields. They brought with them assortments of homemade instruments created out of locally found objects, such as penny tin-whistles, dish-bottom drums and even a primitive set of triangles fashioned from a meat-hook, a horse-shoe and a spoon.
At the time of the Ballarat rush, there were bands of roving musicians, including a brass band, led by a Mr Hore which set out from Geelong in 1852 playing 'The Girls we left behind us'. These travelling bands of local musicians were not always as popular as they imagined themselves to be. Their limited repertoire often failed to satisfy a demanding audience who preferred professional international entertainers.
As goldfield towns were established, theatres and concert halls were built, often under canvas. Professional entertainers, such as Charles Thatcher and Lola Montez toured the goldfields to great acclaim and in Lola's case, consternation.
This pageturner requires a web browser with the Flash plugin and JavaScript enabled.
Get the latest Flash player
> Read about the daring Lola Montez and her spider dance

> Discover what happened at goldfield concerts and subscription balls