Eugene von Guerard – an artist on the goldfields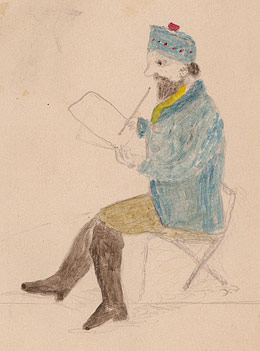 Johann Joseph Eugen von Guerard (known as Eugene von Guerard) was an artist remembered mainly for his romantic and delicate Australian landscape drawings and paintings.
Eugene von Guerard was born in Vienna in 1811 and studied painting in Italy from his mid teens. He moved to Germany in his 20s and exhibited his landscape work in salons across the country. In the late 1840s, adventurous von Guerard may have spent some time in the Californian goldfields and it seems that gold fever struck him hard. In London, in 1852, von Guerard joined a company of continental Europeans (mainly French) who were setting off for the newly discovered Ballarat goldfields to make their fortune. The group consisted of fourteen men and one woman. After four months at sea, von Guerard arrived in Australia in December 1852, and headed almost immediately for the goldfields around Ballarat.
> View a sketch of the Ballarat goldfields in around 1854

During his time on the diggings, von Guerard kept a diary, in German, which was later translated and transcribed, probably by his daughter. This copy, which is now in the State Library's collection, also contains sketches of von Guerard's camp, landscape and mates, which he made between 1852 and 1854. Von Guerard returned many times to the goldfield areas, sketching the people and landscapes he observed.
> View sketches and drawings of the Victorian goldfield regions by Eugene von Guerard

Although he didn't strike it rich on the goldfields, von Guerard fell in love with the Australian countryside and travelled extensively around south eastern Australia and New Zealand. In 1855 he attempted to sell some of his paintings through the Mechanics Institute in Melbourne. Although the Argus reviewed his talent very favourably, the response from the public was initially disappointing. Von Guerard persevered, however, and made his living by commissions from wealthy land owners and businessmen, finally earning the patronage of Governor Henry Barkly who commissioned a series of sketches of the Western District of Victoria.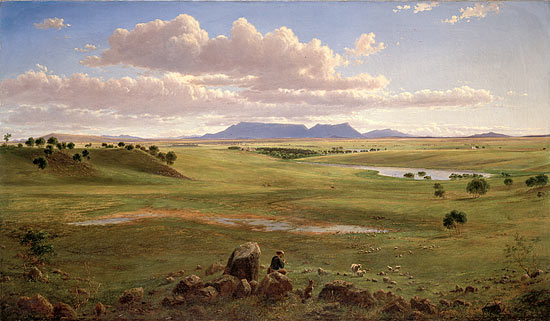 Von Guerard's paintings reflect an understanding and sensitivity towards the Australian landscape, which at that stage was undergoing unprecedented change and modification by human settlement. Von Guerard's images offer several interpretations of the Australian bush and its people – from wild, brooding Romantic landscapes, to sensitive, and sometimes humorous, sketches of its inhabitants. He sketched extensively on his travels around the countryside, later working some of these sketches up into spectacular oil paintings for exhibition and sale.
Eugene von Guerard remained in Australia for 30 years. He married fellow German, Louise Arnz and had a daughter, Victoria. Von Guerard was a founding director of the National Gallery in Melbourne and an active member of the community. The von Guerard family returned to Europe in the 1880s where Louise died in 1891. The Australian bank crash of 1893 affected his investments badly and Eugene von Guerard died in poverty in Chelsea in 1901 at the age of 89.