William Anderson Cawthorne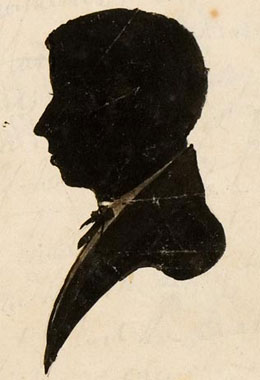 [Silhouette of William Anderson Cawthorne]
, ca. 1849,
Manuscript MLMSS B230
William Anderson Cawthorne was born in London in 1825. He was an artist, author, and schoolmaster. Immigrating to South Australia with his parents in 1841, he opened a school in Currie Street, Adelaide and in 1852 became headmaster of Pulteney Grammar School. He taught until 1862 when he became founder and secretary of the National Building Society. He is particularly remembered for his strong interest in and knowledge of Indigenous Australians and published a number of works on their history, traditions and customs.
As a young man, Cawthorne recorded his observations on the gold rush and how Adelaide had been affected by the rush to Victoria. He notes that 'Everything is horribly dear in Adelaide' and of the sharp reduction in population due to the rush to the goldfields. On December 12 he wrote,
'Adelaide is in an awful state everybody leaving it – for the gold diggings at Mt Alexander - Ballarat – Men there are getting fortunes – in a few weeks – men… going away – leaving their wives & children behind – the Cads – work of all kinds is stopped ...'
Despite his criticism of men leaving to go in search of gold, Cawthorne too travelled to the Victorian goldfields via Melbourne to try his hand. However after only a few weeks, he returned home to Adelaide, unwell and penniless.
Transcript: Selection from William Anderson Cawthorne diary, 1849-1859 Manuscript MSS B230
[Page 1]
Dec 12 Adelaide is in an awful state everybody leaving it – for the gold diggings at Mt Alexander - Ballarat – Men there are getting fortunes – in a few weeks – men are [indecipherable] on going away – leaving their wives & children behind – the Cads – work of all kinds is stopped – people are becoming insolvent right & left – altogether dreadful –
The most expanding excitement prevails hundreds are leaving for the Victorian Gold diggings - & hundreds are making their fortune in a few weeks, this town is in a most distressed state. No money – no people many insolvencies –
Dec 24
31 people just returned from the diggings
Over a few weeks, some 4 or 5, got £600. – they return merely in [indecipherable] of 'no water' – 6d a pint. –
[Page 2]
Anecdote of dogs
Anecdote – About 90 or 100 miles S is the Biscuit plain – forms a most extensive flat of several miles – in length & breadth - & during the last severe winter – have been unprecedently overflowed – forming a lake of water varying from inches to several feet deep near open 70 miles – less – Through this lake – the overlanders whether horseman or drays have to wade about 3 a h weeks ago – a dray came through it - & belonging to it were 2 dogs a little & a big one – the big one managed pretty well – now walking then swimming – but owing to the depth of the water – the little dog after swimming, without scarce any [indecipherable] – for two days – as men reached a little knoll or island where they rested – both wearied to death On the morrow – they allowed the dray to proceed – the man thinking they'd follow – the big dog followed – swimming - & looking back to see the little dog trying to follow & it could not – it actually returned back - & ultimately died with his companion – both being found dead some two or 3 days after.

Dec 24. Adelaide is nearly ruined all are off to the Diggings – great remains of diggings being here - - but plenty [indecipherable] – Burra shares are very low – All sorts of reports about the one universal talk is – off to the diggings – I am going to the diggings - off to the diggings tomorrow Goodbye off to the diggings – 'diggings' etc – from pulpit to the [indecipherable]

[Page 3]
New Year
Jany 3d 1852 – Just returned from a trip to Port Elliot - Goolwer – Sea mouth of the Murray - & Currency Creek – wretched roads – bushed it all the time - & plenty of rain – the furthest point about 80 miles – a wild desolate place.
A new year! - Ah! A new year – it is a sad new year – every thing dull & gloomy in Adelaide and prospects very bad. All gone gold seeking – a very bad state of things many private houses – have chalked up - "gone to the diggings" – The same with shops – What shall happen to me in the next? - where shall I lie? Will I go to the land of gold! I think not – I cannot write any reflections – because my mind, as well as my [indecipherable] prospects are so unsettled – if this coming year is as good as the past one – I shall have a considerable amount perhaps £ 50 – in my pocket – but alas! Affairs are very gloomy The colonies are always up or down – you never know – how one month will be with another profits are so high – speculation so rife & credit so extensive – that any risks are undertaken – a moral indifference also as to results pervades the man. – Insolvencies are confirmed - & the Bill system continued What am I better this year than the last? – do I love the world more? – Am I nearer the other world? – have I risen or fallen – more a devil or a God? –
[Page 4]
Gold! Off to the Diggings –
Gold! Gold! Gold! – all for gold – Butchers – bakers – miners – hawkers – fishers – grocers – tailers – workmen – schoolmasters – clerks – officers – all! All! "for the diggings' – many have come back everyone from £ 50 to £ 500 & this in a few weeks – some 3 some 6 or 8 weeks all off again with their families – the ministers are even going The Wesleyan Sunday School indecipherable] has closed for want of teachers – the revenue has fallen to half the amount – Thousands are going shops are shutting – houses emptying - money scarce – we gain the whole world & lose our own souls –
Jany 19 1852 – I am off to the Diggings!!!!!! – who would have thought it – but all are going – great & small – no exception the colony is ruined Sub officers going off salaries of £ 300 & £ 350 – to go – I leave my school (?) with my wife & mother – who cannot stand these times – we must go – there is no help. God grant I may be successful – The av: gains is £ 40 per week –
-----
Jany 27th Off today – Curse the Gold Diggings – that caused some to riot. All for a supposed fortune.
[Page 5]
(Sketch of the diggings)
gold diggings
Feby. 24. 1852 – Returned – pennyless & ill with rheumatism - & dreadfully debilitated – Reported to have been a corpse – my wife & mother came to fetch me either dead or at the point of death – abandoned all at the Diggings & returned to Adelaide. – Abstract of the Adventure. 4 days on the voyage – heavy gale all the way – very sick – watched the horse night & day – had nothing to eat but salt horse – & filthy mutton went on shore at Melbourne on Sunday night – at last found a lodging – bad – next day lived upon bread & water – I saw a woman murdered in the street slept on wet ground on the Yarra river – next day fared no better – slept d(itt)o; next day started for the Diggings – 80 miles away – had to stump it – pushing the cart up the hills - & holding on down the hills – bad roads worse water – very hot & very cold – rascally company – looseness of life horrid drunkenness – plenty of revolvers - & guns & shooting – got to the diggings such a sight – gold working & sinking in holes 25ft-30ft deep & in the morning, got ill – spasms & Rheumatism – no water – returned 2 days there – saw enough – 2 days back spent them with an out & out blackguard – applied for a situation – did not get it – came back.
[Page 6]
was 14 days coming – a job of wind, driven 100 miles out of the way – off to the S. pole – broke sails – bad food – very ill – got to Adelaide very debilitated & very hungry – mother & wife rushed down to the Port – heard I was dying – thanked god, I was back – but very ill – head all in a whirl – bad for a week afterwards - & now Feb [indecipherable] March 5 – tolerably well – I was generally reported to have died – all the Diggers are liars – Adelaide in an awful state all gone – my school gone – no men – no children, no money –
Thursday March 18. Gold fever yet hundreds going – scores returning with gold & various excess, things very bad - I not heard that 18 sheep are dead & that 82 have the foot rot.! I am highly distracted – as I am paying to the Society 7/- per week for them – them in foul play.
April 1. fool day – I was a fool – in more ways than one. Mother has just gone Tuesday Mar: 30.1852. to Kangaroo Island to live with Mr C. – rather to take care of him I was going, but at the 11 hour decided not – my school requires nursing - & not running to & fro – Cape Willoughby – is a grey place - & the communications with very little – few & far between – shall perhaps not see them for months perhaps a year or so – poor mother how she is knocked about with Noah's dire - can find no food whatever in the "Yatala" –
[Page 7]
Gold fever not abated – though the spirits are not quite so favourable, the colony is in a very middling state – An escort under [indecipherable] will in future go regular to Mt Alexander, it last time brought about 7 cwt of Gold – there is now est: an Assay office – & the Govt price is £3-11- per oz. In Melbourne I hear it is only £2-19-6 The flash brought yesterday[indecipherable] 5000 oz. The diggers only come over for a spell & then return – but the winter will cut them up.
Another day – rather poorly – when I am out & out well? – if I am well in the body, I am ill in the mind - arminianism or catholicism – calvinism, or puseyism or some other ism – worrying me to death – Descartes says – Cogito ergo sum – & what led to this – because – my very doubting the existence of things – makes me know that I can doubt – I go further – I doubt that my doubts are doubts – funny – where then the starting point of certainty – There is no certainty – all is belief – dear me! This is a profound subject nay it is a silly subject – Locke has exposed this admirably – alas! I want a place to give utterance – I "bide my time" – I always read several books at a time – I am reading now – "Life of Cortes", "Travels in Mexico", "Evilina" – "Philosophy (Biography of & "State Trials." – besides miscellaneous writings.
Good Friday. April 9 1852 – preached a Sermon to my blackguard congregation – attentive 55 males & 5 females: miners – if it had not been for me
[Page 8]
they all might have whistled for a Service – so much over the pound;550 – care about the matter – it was the first Good Friday sermon & service ever held there – at the Gaol. - how odd – praises & curses to proceed out of the same mouth! – 5 whores – who but to say – how their mouths full of blasphemies – too unutterable – singing to God "come loud anthems let us sing" – strange – can sweet & bitter come from the same spring? –
Adelaide has got a slight start again – about £200,000 worth of gold was is now in the colony – yet 100's are going away & 100's purpose to follow – no new buildings – a public works going on – the trade is confined to various shops – whether of clothes or eatables – the diggings are all the go – had great anxiety about the New Ord: (Ed:) not appointed yet – & this month is the last of the old [indecipherable] Ord: I wrote once & was required to write again – I did so – I am afraid it would come out - & if so – I shall lose £40 [indecipherable]
Have heard the Miss Cooks are undergoing the painful operations of removing 1 cancer & 1 tumour –
Tuesday – The first dawn of luck has befallen to me this day – viz. I was told (confidentially) by Dr Wyatt – that the Govt intend to appoint me one of a member of the new Ed: Board! I have been writing about this to them – but scarcely imagined I should be so favoured – let me only get my foot into Govt employ I'll guarantee they'll I'll not go backward I have striven hard enough – & what I get I'll not lose – I was very thankful.