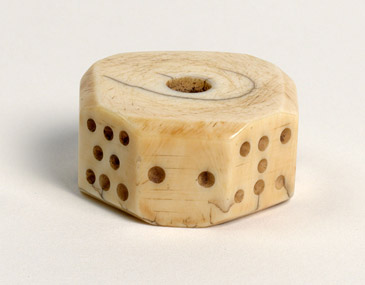 Convict-made die, after 1882
Carved bone, wheel-shaped with two flat sides
R 574

Dice have been found all over the world, including ancient Greece and Rome. There are even references to 'casting lots' (playing dice) in the Bible.
This carved bone, wheel-shaped die with two flat sides, is believed to have been made by convicts at Narrabri Gaol (after 1882). The circumference has eight sides on which dots, representing numbers, have been cut. There is a hole through the middle.
Convicts had few resources with which to make games and probably even less time to play them. However, play they did, despite the administrators best attempts to stamp out such activities. This was probably one of the first forms of gambling in the colony.
While the NSW convict community is well documented, their personal interests and leisure pursuits are less well known. With a little imagination, this object invites us into that important aspect of convict life.