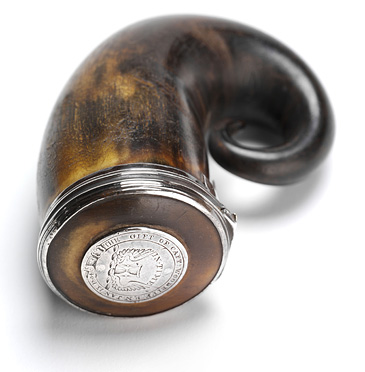 Animal tusk snuffbox, 1804
Artist unknown
animal tusk
R 340

This snuffbox, made from an animal tusk, is thought to have belonged to Lieutenant Colonel George Johnston. Inscribed on its lid is 'the gift of Captain Woodriff, R.N. Jan 13 1804'.
George Johnston (1764–1823) was part of the marine detachment that sailed to Australia with the First Fleet. He was most notably involved with the arrest of Governor Bligh in 1808, afterwards assuming the title of Lieutenant Governor, imposing martial law and taking over administration of the colony. He was later court-martialled over this incident.
Daniel Woodriff (1756–1842) was a British naval officer who first visited Australia in 1792. He visited again in 1803 as part of David Collin's expedition to found a new settlement in Bass Strait.
Although Woodriff and Johnston knew one another, and both were involved in the Castle Hill Rebellion of 4 March 1804, it is not clear why Woodriff gave Johnston the snuffbox.