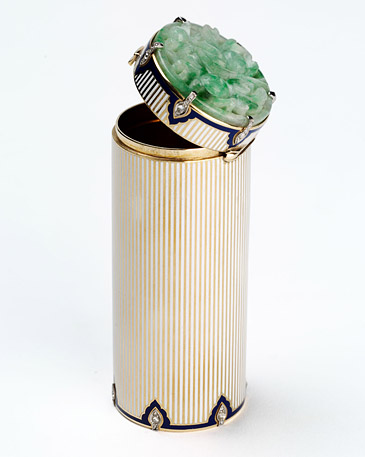 Nellie Melba's hairpin box, 1918
La Maison Cartier
Gold and enamel cylinder ornamented with diamonds and jade
R 69

Dame Nellie Melba (1861–1931) was Australia's first internationally successful opera singer. Born Helen Porter Mitchell, she adopted the surname Melba as a tribute to Melbourne, her home town. After singing professionally in Melbourne for some years, she made her opera debut in 1887 in Brussels as Gilda in Rigoletto. She went on to play leading roles in Paris, London and across the continent, was feted by society and fashion designers showered her with gifts. Over the next few decades, Melba continued to perform around the world.
This gold and enamel hairpin case, designed by the New York branch of Cartier, the famous jewellers, may have been a personal gift from Pierre Cartier. The case is encrusted with diamonds and jade and is inscribed: 'Cartier' and 'NM Feb 15 1918 New York'. Melba later gave the case to a Sydney friend who donated it to the Library in the 1950s.