Larmer's "Native Vocabulary"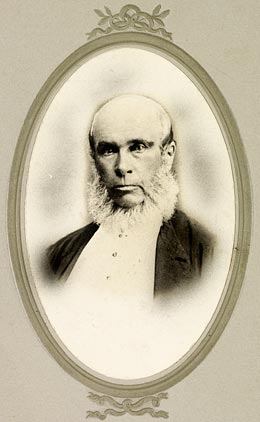 James Larmer, Surveyor-General, Photograph GPO 1 - 17024
James Larmer arrived in New South Wales in 1829 to take up a post in the Surveyor-General's Department. He was appointed Assistant Surveyor on 1 January 1835 and selected to accompany the Surveyor-General, Thomas Livingstone Mitchell on his second expedition to determine if the Darling River flowed into the Murray.
Larmer also carried out a number of surveys in the Counties of Cumberland and Northumberland, mainly around Sydney and its outlying areas.
Sometime between 1835 and 1853, Larmer transcribed word lists from Indigenous languages he encountered. The first page is titled: "Larmer's Native Vocabulary transmitted to the Surveyor-General 24th Nov 1853"
The regions included in his vocabulary are Brisbane Water-Tuggerah Beach Lakes; Hunter River, Brisbane Water and Newcastle, Batemans Bay; Ulladulla; Braidwood; Yeo Yeo and Narraburra; Upper Calara or Lachlan; Junction of Lachlan and Murrumbidgee.
Localities on the northern and southern shores of Port Jackson (Sydney Harbour) are also included, with Indigenous place names alongside the English names that were in use at the time of writing.
Transcription: James Larmer - Notebook of Australian Aboriginal Vocabularies, 1832-1853, MLMSS 7213
[Page 1]
Larmer's Native vocabulary transmitted to the Surveyor-General 24th November 1853-1834
Brisbane Water. Tuggera beach Lakes
Armoo Black
Burreng White
Ber-ral Hard
Kin-yat Soft
Na-ba Tomahawk
Bab-la-loo Tobacco pipe
Gerri-barra Musket
Tudera Kill
Kurrawan Smoke
Windigi Messmate
Nugung Wife
Kooranung Honey
Yurranung Hungry
Pottoo Water
[Page 2]
Kurrawa Youg-ah Smooth Sea
Kurrawa tulgan Rough Sea
Coorey Black fellow
Indore wea You tell
Gerrumbullong White fellow
Yandee-andee Run
Wannung –garri-bee Where are you
Tugga Eat it
Narra –beeba Drink it
Muttong Courageous
Jebug-gall or Goen The soil
Chullora Flour
Jungal- maboo Shout again
Bewg-hi To day
Warra Yesterday
Indore You
Attore Me
Gurranang Sugar
Cudyel Tobacco
[Page 3]
1891 Nov 24
[indecipherable]
Narrah Start – go
Ki Come
Guyoug Fire
Bardo Water
Bolbi Wood
Con je la Knife
Mar-ra Take it
Attora -meka
Neha I gave
Attore wine bung line I want it
Cundoo Bread
Muggoo ruggo Fish
Ki balee Come along
Burril Money
Nanderingobee hoowine Where are you going
[Page 4]
Hunter River, Brisbane Water & Newcastle
Urroong ah Run, make haste
You ring Go
Wog wool One
Pulwara Two
Ur roo Three
Cow woy Four
Warrangal Five
Gum mi Spear
Mutting Fish spear
Gin ga frightened
Ki Kupa Come along
Mir see Dog
Murroon Good
Gow way Throw it away
Mauva Take it
Bouva South
Souda North
Ioog a ra North East Wind
[Page 5]
Beambolong Large
Cullangalong Long way off
Yerring Whiskers
Wougul Sleep
Kuriwa The sea
Nye Mother
Be ung Father
Bung hi Brother
Hurreen Sister
Cowan Uncle
Nurrung you Old woman
Cow wow Yes
Cow way No
Coo ning Small
Ur roong Large
Thirty [indecipherable]
[Page 6]
Murroon Living
Nullural Wet
Boo rurra Dry
Minning Night
Burre ung Day light
Minni Tomorrow
Coolla Mouth
Yumree Hand
Mundow ay Foot
Nen gro Nose
Binna Ear
Pun yul The Sun
Yum aga The moon
Worree worrung Stupid fellow
Murroong Good
We jung Bad
Gow lang [indecipherable]
[Page 7]
Tuggera Cold
Narurro ree Warm
Nugara Sleep
Tulgan Heavy Swell
Nungba Smooth water
Wibibee Wind
Eudra Clouds
Murree Wallaby
Warral Sit down
Cobbo Stop
Muttawa Take it
Gurra gurran Grog
Indore weah You tell
Bunnung garee Boat
[Page 8]
Bateman's Bay
Goen or Cobbaba The devil
Bug green The sun
Towara The moon
Gin gee Stars
Mungaroo Clouds
Boomoah Thunder
Thundala Lightning
Kooroogawa Wind
Bunna Rain
Tuckite Frost
Wadthung Grass
Boora Rock
Kunawa Snow
Burleen Salt water
Nadjung Freshwater
Mudjaree Canoe
[Page 9]
Tugga Cold
Nulla Warm
Mangara Bark
Tugga elee No
Nai Yes
Yajoworoo Hair
Koondoo Head
Era Tooth
Ta or Tha Mouth
Mil lee Lip
Buyee Belly
Munna Hand
Kooree Ear
Thunna Foot
Mubbara Eyes
Narree Leg
Boo roo Kangaroo
Birre bine Emu
[Page 10]
Mugga Snake
Tagula Pheasant
Murrera Whale
Warang Boy
Mulna Girl
Bejea Old man
Moolootba Old woman
Euronga Young man
Booraja Morning
Tubbara Night
Meua what
Nabine Go
Yawoi Come here
Booee Make haste
Miare Sit down
Purdoo Foot path
Boogooya Sun set
[Page 11]
Mundaba Tomahawk
Tugon [indecipherable]
Currung adeta Grog
Moorh Tobacco
Tundulla Small
Birrega Large
You een Black fellow
Jurrung gala White fellow
Wuigun Black gin
Mitta la lee One
Mung ung dara Two
Toowing gowaree Three
Muna linga Four
Ulling brotha Five
Munro Tea
Mundaja Meat
Tung-ah Bread
Mirrega Dog
Burral Wallaby
[Page 12]
Murraba Kangaroo
Koong –a - ra Opossum
Marrah Fish
Nadjara Canoe
Yarraman Horse
Bid doo High range
Gra
Innull- murrowan Flat country
Bud da Creek
Wuroya River
Cog goo Gully
Kurraloo Monkey
Iag goold Pheasant
Woom barra Duck
Inmaga Good
Cornena Bad
Bun goo Squirrel

[Page 13]
Ulladulla
Tuggi No
Nawa Yes
Ji Come
Nobard Go
Nonaga-weyou What is your name
Tewg-ah Bread
Mondagai Meat
Marrah Fish
Burroo Kangaroo
Koona Duck
Ka au dee Tobacco
Yau yee Fire
Boanbal Wood
Warrang Child
Niara Look there
Yookun or Coonjee Hut
Cumboo Gullock Bullock
Euroka The sun
Indeko The moon
[Page 14]
Braidwood
Yarra bunye Go away
Iou woi Come here
Munnumalae Make haste
Nulla or Bimbal Wood
Nadjung Fresh water
Cadthung Salt water
Noodthung grass
Bondung Rain
Kooroogawa Wind
Koolumbroo Cloud
Jerrung Star
Jad jung Moon
Murring Blackfellow
Kooralala Whitefellow
Kooroobun Rock
Bullon Black gin
Nunglee Beef
Tithijung Bread
[Page 15]
Bullmuyan Grog
Mittung One
Bullalla Two
Bullamatung Three
Nerang Four
Yeo Yeo and Narraburra Murrumbung
to Nalllung Rock
Murrumbung Good
Ingil Bad
Oonbi One
Bulla Two
Bullonganbee Three
Madoo Four
Oog goo e Five
Gib bre bung Ten
[indecipherable] Rock
[Page 16]
Yeo Yeo Narraburra
Murrumbung Good
Ingil Bad
Oonbi One
Bulla Two
Bullonganbee Three
Maddoo Four
Oog goo e Five
Gib bre bung Ten
Nallung Rock
Eurung Rain
Ge wong Moon
Erae Sun
Pudthanbung Duck
Moonda Native dog
Eurong Emu
Comball Turkey
Guya Fish
[Page 17]
Tambaree Water hole
Mi een Blackfellow
In nur Gin
Boo ri Boy
Nee in Fire
Bogin grass
Towara Mud
Me wa Star
Dowin Tomahawk
Doo Loo Spear
Burgan Boomerang
Malyan Eagle Hawke
Jinnung Foot
Murra Hand
Mill Eye
Nun Mouth
Bullong Head
Boorabin Belly
Wood. da Ear
[Page 18]
Moroo Nose
Dalline Tongue
Moonil Old
Boobi Young
Dundong Cold
Noo gil Warm
[Page 19]
Upper Calare or Lachlan
Ogill Warm
Mumboa Hot
Toggera Cold
Calleen Fresh Water
Boog woo in Grass
Ur roong Emu
Wamboo een Kangaroo
Kuya Fish
Coom bull Turkey
Dundoo Swan
Booralgal Native Companion
Toon gool Bear
Wirrech Wind
Weri No
Nowa Yes
Yavagee Do
Neja Stop
[Page 20]
Junction of Lachlan & Murrumbidgee
Muccara Rain
Wilya Hot
Tillal Cold
Il tha No
Yea Yes
Nicka do
Go woi Come
Nun na Blackfellow
Birrup Gin
Billice Boy
Bick nunna Old man
Brung ine Emu
Ka en Dog
Toolombee Duck
Burrimully Good
Mummothinthy Bad
Mowa One
Eu rowal Two
[Page 21]
Thur alua Three
Dunewa Four
Curra Five
Menino Make haste
Hangaino Stop
Wine gol by Moon
Na eng hee Sun
Toort tee Star
Wellong he Wind
Mug-ga ree Rain
Ten an gee Star
Kel lal lee Warm
Transmitted to the Surveyor General
November 24th 1853
(sgd) Ja Larmer
[Page 22]
A small plain at the Crossing of the
Road from Murringo to Bathurst on
The Lachlan is called "Mulyan" in
consequence of Eagle Hawks frequenting
it formerly.
At "Dumondril" large reeds grew previous
To its occupation by the tribes from which
the natives made spears.
At all stations the name ending in "ong" –
Jallong Curiong Illalong Bogolong
Bennalong Etc there are fords and spring of
permanent water
[Page 23]
At Mr Broughtons station on the Burrowa River is a large and very deep water hole called Binjenine - Binje in that neighbourhood is a word applied to the stomach by the natives
sgd JaL