Early Vocabularies
Many Indigenous Australian languages have been lost, yet we can trace fragments in the recorded observations of European visitors and settlers.
The first recorded word list of an Australian Indigenous language was compiled by Captain James Cook in the area of the Endeavour River in northern Queensland in 1770. It was from this vocabulary that the word kangaroo was brought by members of the First Fleet to Sydney.
There were around 250 Indigenous languages spoken in Australia at the time of the British arrival in 1788.
The language of the Sydney region was the first language encountered by the British when the First Fleet arrived. It was spoken from the southern shore of the Hawkesbury River down to Botany Bay and west across to the Nepean.
A number of First Fleet officers and marines recorded their impressions of the Indigenous people living around the Port Jackson settlement and attempted to record the language of the Eora.

These word lists, recorded in the latter part of the 18th century provide a glimpse into the language and culture of the Indigenous communities living at the time of European contact.
In the 19th century, surveyors and missionaries recorded words from Indigenous communities as European settlement developed beyond Sydney.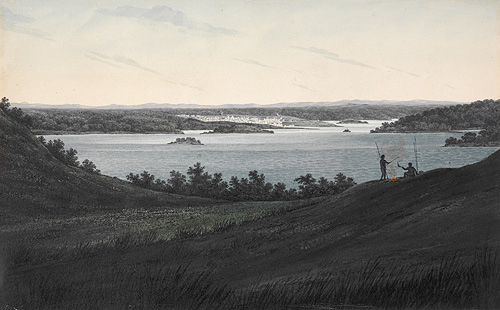 Access additional vocabularies on the Library's catalogue: