William Harry Tietkens - picturing Uluru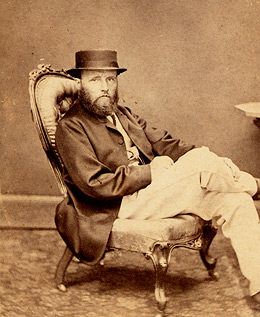 William Harry Tietkens was born in 1844 in London. He arrived in Adelaide just after his 15th birthday and headed for the Victorian goldfields, where he worked at odd jobs in the Castlemaine area. Over the next decade he developed a love of the Australian bush and worked as a station-hand and drover in Victoria and western New South Wales. In the 1860s and 1870s, the inland country beyond the Darling River was being explored for its potential as pastoral land. Tietkens was involved in several expeditions in the mid-1870s which explored the area from northern South Australia across to Perth. These expeditions were led by Ernest Giles, a pioneer explorer of Central Australia. Tietkens' desire to investigate Central Australia and understand its agricultural and settlement potential led him to qualify as a surveyor in Perth in 1878.
In 1889, Tietkens was given command of an expedition to explore the region around Lake Amadeus, Mount Olga and Uluru (Ayers Rock). The party consisted of around five people, including a tracker called Billy, from the Alice Springs Native Police. The supplies were carried by twelve camels under the direction of camel driver Frederick Warman. The entire journey took around almost six months.

> View a map of the route taken by the expedition

The aims of the expedition were to map the extent of Lake Amadeus, and to establish whether an exploitable water source ran from nearby hills into the lake. An amateur photographer, Tietkens documented much of the trip on film and took the first known photographs of Uluru.
> View Tietkens' photographs taken during the 1889 expedition to Central Australia

Tietkens also collected plant and mineral samples during the trip which enabled geologists to create a 'Geological Sketch' of the region. Seven new plant species were identified from his material and he was the first European to find and name several locations, including Lake MacDonald and the Kintore Range.
Near the end of the journey, the party arrived at Erlunda Station, 160km south of Alice Springs. Here they rested for nearly a fortnight, and Tietkens sent a telegram to the Royal Geographical Society in Melbourne, sponsors of the expedition, reporting his findings.
> Read the telegram outlining the results of the expedition

After the expedition, Tietkens became a fellow of the Royal Geographical Society and lectured and published extensively on inland Australia. He continued his surveying work for the New South Wales Department of Lands and eventually retired to Eastwood in Sydney's north west. He later moved to Lithgow to live with his daughter Emily and died there in 1933. He is buried in the Field of Mars Cemetery in Ryde, Sydney. Upon his death, some newspapers called Tietkens the last of the Australian explorers.