My Country - Dorothea Mackellar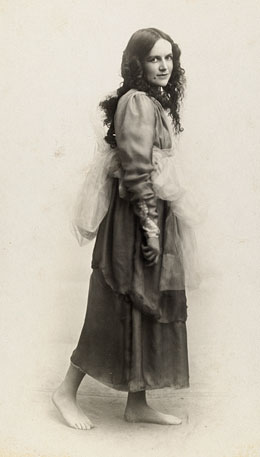 Sometime before 1908, while on a visit to England, a homesick young Australian woman put her thoughts down on paper in a poem she called 'Core of My Heart'.
This famous poem (later retitled 'My Country') is believed to have been directly inspired by Dorothea Mackellar's experience of life on the land, and her love of the Allyn River district, NSW.
From 1898 to 1901, the Mackellars owned Torryburn station, near East Gresford, NSW, during one of the region's driest times. While holidaying at the property the family witnessed the breaking of a drought. In later life, Dorothea Mackellar recalled how, after the rain, the grass began to shoot across the parched, cracked soil of the paddocks and, as she watched from the verandah, the land to the horizon turned green before her eyes.
Dorothea Mackellar's iconic verse is now regarded by many Australians as the universal statement of our nation's connection to the land.
Transcript: 'Core of My Heart', c.1908
Core of My Heart
The love of field and coppice
Of green and shaded lanes
Of ordered woods and gardens
Is running in your veins --
Strong love of grey-blue distance
Brown streams and soft dim skies...
I know but cannot share it,
My love is otherwise.
I love a sunburnt country,
A land of sweeping plains
Of ragged mountain ranges
Of droughts and flooding rains.
I love her far horizons
I love her jewel-sea,
Her beauty and her terror --
The wide brown land for me!
The stark white ringbarked forests
All tragic 'neath the moon
The sapphire-misted mountains
The hot gold rush of noon --
Green tangle of the brushes
Where lithe lianas coil
And orchid-laden tree-ferns
Smother the crimson soil.
Core of my heart, my country --
Her pitiless blue sky,
When sick at heart, around us
We see the cattle die...
And then the grey clouds gather
And we can bless again,
The drumming of an army,
The steady, soaking rain.
Core of my heart, my country,
Young Land of Rainbow Gold --
For flood and fire and famine
She pays us back three-fold...
Over the thirsty paddocks
Watch, after many days
A filmy veil of greenness
That thickens as you gaze...
An opal-hearted country,
A wilful, lavish land --
Ah, you who have not loved her
You cannot understand...
...The world is fair and splendid
But whensoe'er I die
I know to what brown country
My homing thoughts will fly!