Captain Thunderbolt
Frederick Ward generated much support and sympathy due to his gentlemanly behaviour and his tendency to avoid violence in his bushranging escapades. A highly skilled horseman, his strong self-reliance and physical endurance meant that he could survive in the bush for long stretches of time.
As a young man, Frederick Ward worked as a horsebreaker and drover on the Tocal Run on the lower Paterson River and acquired extensive knowledge of horses. He was first arrested in April 1856 for attempting to drove forty-five stolen horses to the Windsor sale yards. Found guilty, he served four years imprisonment at Cockatoo Island before being released on a ticket-of-leave. In 1860 he met Mary Ann Bugg who became pregnant with his child. Ward settled her in the Dungog area, however he was soon in trouble with the authorities for breaking his ticket-of-leave parole and for horse stealing. He was imprisoned again at Cockatoo Island.
On 11 September 1863 Ward absconded from Cockatoo Island with another prisoner, Fred Britten, by swimming to the mainland, presumably to the northern peninsula of Woolwich, and then headed north out of Sydney. Travelling toward New England and then Maitland, Ward began committing a series of robberies. Enduring bushranger mythology claims the name Captain Thunderbolt was established when Ward entered the tollbar house on the road between Rutherford and Maitland and startled the customs officer from his sleep by banging loudly on the door. The startled officer, Delaney, is purported to remark, 'By God, I though it must have been a thunderbolt'.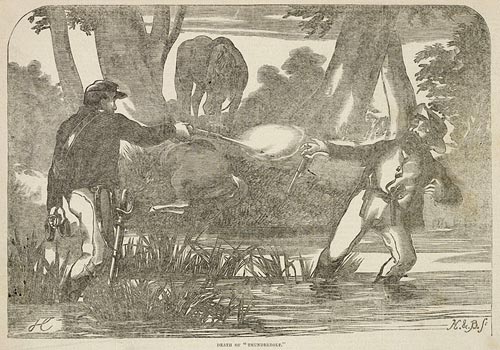 Roaming across a vast area of NSW from the Hunter Valley to the Queensland border, Ward was sometimes accompanied by Mary Ann and their children. A spree in Dungog, Stroud and Singleton during November 1863 to January 1864 involved the entire bushranging family. They were pursued in the rugged hill country near Dungog by police and volunteers, however Ward, Mary Ann and the children escaped. Thunderbolt fled from his pursuers (on horseback) by leaping down a cliff face above the Allyn River. Fortunately for the horse, they landed in a sand bed.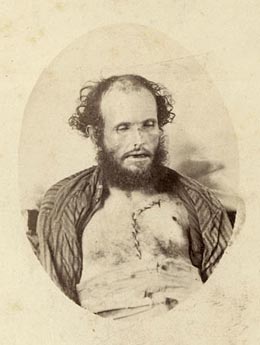 Captain Thunderbolt (bushranger Frederick Ward),
1870, Cartes-de-viste, PXA 362, Vol. 6/109
Ward was eventually shot by Captain Walker (an off-duty policeman) in 1870 after a dramatic showdown when Walker shot Thunderbolt's horse out from under him in swamp land near Uralla.
Ward's body was taken to Uralla courthouse where photographer, Mr Cunningham of Armidale took a portrait. The photograph sold for one shilling a copy. The body was also placed on public display and hundreds came to observe the famous bushranger in death.