Philip Gidley King (1758-1808)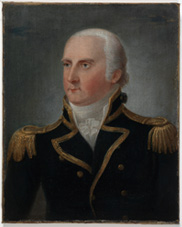 Governor King
,
date unknown, artist unknown
Oil painting ML 546
Philip Gidley King's journal is contained in two volumes. It covers the voyage to New South Wales, the voyage to Norfolk Island and events there, a vocabulary of 'The New Zealanders language', and an account of a voyage from Norfolk Island to New Zealand. King's journal was published in part, with the journal of John Hunter, in 1793.
King also kept a copy of this journal in a single volume and with additional information. This copy is also held in the Library's collections.

In February 1788, shortly after arriving in Sydney Cove, Philip Gidley King sailed for Norfolk Island under orders to found a settlement there. On 6 March 1788 King formally took possession of Norfolk Island in the name of King George III.
While on Norfolk Island, King formed a relationship with Ann Inett, a convict woman. They had two sons, Norfolk and Sydney. Both boys were educated in England, and like Phillip Parker King, his legitimate son, became officers in the Royal Navy.
King was appointed third Governor of New South Wales in 1799 taking over from Hunter in September 1800.
King's journal was acquired from the King family in 1933.
Transcript: Philip Gidley King, Remarks & Journal kept on the Expedition to form a Colony in His Majestys Territory of New South Wales ... his Majesty's Ship Sirius ... (vol. 1), 27 January – 1 February 1788
Partial transcription (27 January – 1 February 1788)
when in ye inside of the harbour ye Larboard arm leads to the place where the Settlement is formed which lies about 6 miles from ye entrance of the harbour, we anchored there, ye same evening at about 7 o'clock, being obliged to turn up — The next day at Day light the English colours were displayed on shore & possesion was taken for His Majety whose health, with the Queens, Prince of Wales & Success to the Colony was drank, a feu de joie was fired by the party of Marines & ye whole gave 3 Cheers which was returned by the Supply, at Sun sett The Sirius & all the Convoy anchored here. Capt. Hunter informed the Governor that the French Ships had entered the bay just before he left it, & that they were la Boussole & 1'Astrolabe commanded by Monsieur De La Perouse on discoveries The next Morning JanY 27th A great part of the Troops & Convicts were landed, & the latter was immediately sett to work clearing away the ground, ready for ye encampment
The Place on which ye settlement is to be made is at the head of a Cove at ye head of which a small rivulet empties its self. The Shore on each side is bounded by rocks, within which there is a very fine soil & full of trees which will require some time & labour to clear away, the Marines & Convicts are to be encamped on ye West side & ye Governor, & Staff with his guard & a small part of the Convicts on ye East side of ye Rivulet —
On ye 28th All ye Marines & Male convicts were disembarked from ye different Ships & encamped, the Females were kept onboard till the ground was further cleared. The Stock was also landed this day on ye Eastern point of ye Cove. I should have mentioned before that from ye time of our sailing from England to our arriving here we have lost only 32 people including Marines Seamen & Convicts — but were so unfortunate as to loose a part of our Stock, we landed only, 4 Mares & 2 Stallions - 4 Cows 1 Bull & 1 Bull calf [blank space] Ewes, a good stock of poultry & 3 Goats with [blank space] Hogs, which are ye Property of ye Governor &
Government, the Officers private Stock has been tolerably well preserved —
29th A Great deal of work has been done in clearing away but much remains to be done some Carpenters preparing for fixing the Governors Portable £115 House & a number of ye Convicts digging up ye Ground for a garden
30th A Number of Plants belonging to the Governor was landed & put into ye ground —
31 In the Evening had some very severe Thunder & ye quickest & fiercest lightning I ever saw. We have observed that at Botany Bay & at this place many of the Trees are, burnt from top to bottom; singed as it were, which makes us apprehinsive that it is caused by ye lightning, as no fires of ye Natives could scorch them so regularly. On ye 2nd FebY in a very severe Storm of Thunder a Tree was Shivered by the Lightning, close to ye Governors Guard & ye following night another tree was
split to pieces & [blank space] Sheep & [blank space] Lambs were killed by ye same cause, however it is to be hoped that when ye Country is cleared this calamity will be much lessned —
Feby 1st This day His Excellency Governor Phillip signified his intention of sending me to Norfolk Island with a few people & stock to settle it. Lieut Ball of ye Supply was ordered to receive the Stores onboard necessary for that purpose & the following day at 2 in ye Morning Lieut Dawes of ye Marines & myself sett off in a Cutter for Botany Bay, to visit Monsieur De La perouse on the part of Governor Phillip & to offer him whatever he might have occassion for, we got down to ye harbours mouth at day light, finding a light air from ye Southward, we were obliged to row all ye way & arrived onboard ye Boussole at 10 o'clock in ye Morning where we were received with the greatest politeness & attention by Monsieur de la perouse & his Officers