Thomas Whistler Smith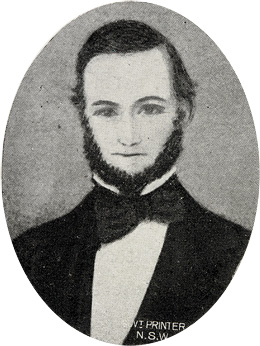 Thomas Whistler Smith
, taken from
Historical notes : Public Library of New South Wales
by F.M. Bladen. 1911 engraving, ML 027.5/B
Thomas Whistler Smith (1824–1859) was a businessman and banker. He was born in England to merchant Thomas Smith and his wife Penelope and the family moved to Sydney in 1830. In 1835, Thomas Smith Senior purchased land in Darling Point, building a single-storey cottage, Glenrock, on the site of the present Ascham School at Edgecliff.
After his father's death in 1842, Thomas Whistler Smith took over the successful family importing business and built a house for his mother known as Dower House in the grounds of Glenrock. In 1847 he married Sarah Maria Street and they lived at Ecclesbourne, Darling Point, until 1850 when he moved back to Glenrock. The Smiths were prominent Darling Point residents - Thomas was one of the first wardens of St Mark's Church and he patronised artists such as Conrad Martens and George Edwards Peacock who painted his house and surrounding views. Smith also directed several companies including the Commercial Banking Co. of Sydney, and was a member of the New South Wales Legislative Assembly from 1857–1859.
In 1859, Thomas Whistler Smith went with his family to London to open and manage the first London office of the Commercial Banking Co. While there, he caught diphtheria and died. He was thirty-five years old.