The Hordern dynasty
Anthony Hordern & Sons was one of Sydney's biggest retail companies for almost a century. This family-run business had its beginnings in a small drapery shop opened in 1823 by Mrs Ann Hordern, who migrated to Australia from London with her husband, Anthony Hordern. The family moved to Melbourne about 15 years later, but in 1844, their son, Anthony Hordern II, and his brother Lebbeus returned to Sydney to start a drapery business of their own. The business did well, moving into larger Haymarket premises in 1856. By 1869, Anthony II's sons, Anthony III and Samuel had joined the firm to create Anthony Hordern & Sons.
In 1865, Anthony II commissioned architect Edmund Blacket to design a villa for himself and his family in Darling Point. Retford Hall was named after Ann Hordern's birthplace in England.
> Examine Blacket's architectural plans for Retford Hall


Darling Point remained home to members of the Hordern family for many years, although they also owned properties across Sydney and in country New South Wales. Hordern family life is captured in several bulging family photographic albums, which include images of people, animals, homes and holiday snaps.
> View photographs of the Hordern family and their Darling Point home


During the 1870s business boomed. In 1906 Samuel Hordern built the New Palace Emporium in Brickfield Hill (after the previous building burnt down). It was a purpose-built super department store covering a whole block, on the current site of World Square in George Street, Sydney. The store dominated almost a whole city block with entrances on George, Pitt and Goulburn Streets and was known as 'The Senior Store'. Samuel's son Sir Samuel Hordern II took over the business after his father's death in 1909.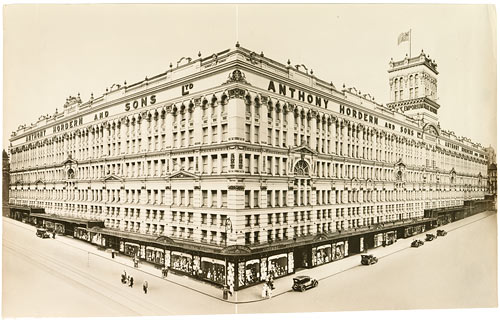 The Hordern company motto, was 'While I live, I'll grow', and the company's ambition was to be 'universal providers'. Whatever the shopper needed, they could buy at Hordern's. The company also ran factories at sites across Sydney, producing items as diverse as pressed metal ceilings, clothing and baked goods. Their distinctive catalogues, covered in red cloth, were produced to the highest standard, and allowed Hordern & Sons to dominate not only walk-in trade but also the mail order country market.
Sir Samuel built his own Darling Point villa in 1912. Called Babworth House, it was erected on the site of Mount Adelaide, formerly owned by Henry Mort. It was designed by architects Morrow and DePutron.
> See the architectural plans for Babworth House


Anthony Hordern & Sons remained major players in the Australian retail market until the second half of the twentieth century and the 'Senior Store' dominated Sydney's cityscape until it was finally demolished in 1987.