Conrad Martens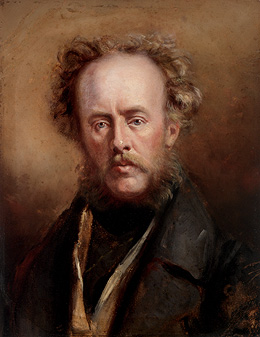 Conrad Martens, ca. 1840, by Maurice Felton oil painting. ML 28
Conrad Martens (1801–1878) was a painter, best known for his landscapes. He became perhaps Australia's most famous colonial artist. Martens was born in England, where he trained under prominent artist and teacher, Copley Fielding.
In 1833 he became official artist on the scientific voyage of the HMS Beagle - a voyage made famous by the evolutionary findings of Charles Darwin. It was on this voyage that Martens developed his unique style of factually accurate, yet artistically imagined landscape painting.
After leaving the Beagle at Valparaiso in 1834, he travelled to Tahiti and then to Sydney, where he remained for the rest of his life. He was captivated by the beauty of Sydney Harbour, sketching the harbour foreshores even as his ship sailed through the Heads in 1835. With introductions to the gentry of New South Wales, he quickly became their favourite painter.
Martens built up a clientele of the colony's social elite for whom he painted, including governors, politicians, the judiciary, leading families, clergymen and merchants of New South Wales. He painted watercolours and oils of their estates as well as landscape views. He was particularly attracted to the rugged beauty of Darling Point and environs.
During the economic depression of the 1840s, Martens took on students to supplement his income. In 1846, he began giving private lessons to Mrs Sutcliffe Mort of Greenoaks, Darling Point and a number of other local residents - the Smiths of Glenrock and the Octagon, Dumaresqs of Tivoli, Mitchells of Carthona and Nortons of Ecclesbourne. Martens made the journey to Darling Point and environs regularly and could not resist sketching wherever he went, making an excellent sequence documenting this beautiful part of Sydney. Eight of the twenty lithographs in his Sketches in the Environs of Sydney published in 1850, were after drawings made on his Eastern Suburbs trips.
Martens often made many views of, or from, his patron's residences. He became a good friend of Thomas Sutcliffe Mort and sketched freely from the landscaped grounds of Greenoaks. He later occupied a studio above Mort's auction rooms in Pitt Street, Sydney.
Apart from Martens' travels inland, the theme of Sydney Harbour continued to occupy him. In subject matter, his work resembled that of his Sydney contemporary George Edwards Peacock who began painting in the 1840s. Although Martens' work was undoubtedly seen as fine art, when compared to Peacock's more prosaic topographical productions, many colonists employed both artists.
At his death in 1878, Martens was the acknowledged father of colonial art in Australia. The State Library holds the world's largest collection of his work, including his original oil paintings, watercolours, drawings, manuscripts and journals.
> View more of the Library's Conrad Martens collections