Thomas Ware Smart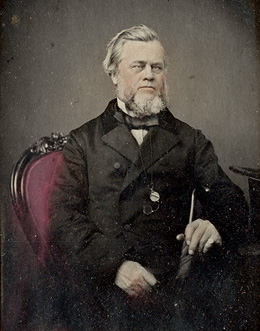 Thomas Ware Smart
, ca. 1857–1858, by unknown artist ambrotype. MIN 400
Thomas Ware Smart (1810–1881) was a prominent politician and man of business. He was born in Sydney, the son of a convict bootmaker, Thomas Smart. Thomas Ware Smart married Mary Anne (nee Kenyon) in 1842, and ran several successful businesses, from auctioneering to real estate agent, banking and flour milling. He was appointed a magistrate in 1845.
Smart was founding director of several companies, Colonial Treasurer, and Secretary for Public Works, 1863–1866. He was also a friend and business associate of Darling Point resident Thomas Sutcliffe Mort.
His own Darling Point mansion was a regency style villa called Mona. It was built on fifteen acres originally granted to James Dunlop, the Government Astronomer, in 1835. Smart opened Mona's impressive picture gallery to the public in 1861.
> See the Library's catalogue record for ambrotypes of Thomas Ware Smart and his wife, ca. 1857-58

> View the Library's catalogue record for a Catalogue raisonne of the celebrated Mona Collection of pictures, 1884
Smart was committed to the Church and worked in several capacities for St. Mark's Church, Darling Point. On Sundays, he even opened his garden as a right-of-way for parishioners on their way to church.
Darling Point in the early days was still a rugged landscape and particularly dark at night. The Darling Point Road frontage of Smart's Mona estate was enclosed by a rough fence and overgrown lantana bushes. A favourite spot of thieves, it was reportedly unsafe for pedestrians after dark, unless armed. On one occasion Sir Thomas Mitchell, who had been dining at Victoria Barracks, was on his way home to his home, Carthona, in an open carriage when he was robbed of his boots, cash and a watch chain. Mitchell is said to have built a stone cottage at the corner of Yarranabee Road for the use of the police (shown in foreground of the image below).